Disclaimer: The following prophecies confirm the coming glory in the Cut Short framework. These samples of modern prophets and their prophecies are here to show that the ideas and concepts have been "in the air" for quite some time. We neither confirm nor deny the accuracy of either the prophets or their prophecies.
---
Kim Clement
"The Spirit of the Lord is working the miraculous. There is a supernatural intervention that is coming, for God says look to the sky. There will be a sign in the sky again over California, over Oregon, over Washington it shall continue north into Canada. For the Spirit of God says, this sign shall cause people to tremble and be afraid. Do not worry for the wind will come says the Lord.

There is an experience that is similar to what took place on the day of Pentecost that is about to take place. What took place? The heavens opened up for they were united together, the day had fully come. What day? The day says the Lord that you've been waiting for, for the Day of the Lord. Men shall say, "Shall we be caught away and be taken into the heavens?" You are going to experience a different kind of rapture, it is a rapture that will take you into a new dimension of God's authority and God's power says the Spirit of God." (Kim Clement, Lancaster, August 8, 2008, 1:15:30, on "The Solar Eclipse and Your Future," August 19, 2017, http://www.kimclement.com/watch.php?id=081917Den1500)
Amanda Grace
Additional prophecies by Amanda Grace can be found here: http://www.cutshort.org/amanda-grace/
Good afternoon everyone; blessings; it's Amanda; I am back; all glory be to God with a word from the Lord that I was given on December 18th 2018. I also heard some things in the Spirit, it started December 17th into the 18th and the Lord had me wait two days before releasing it (I don't remember 90% when I'm under the anointing and it's released so I have to go back and look at it and look over what's been written because it's like your brain shuts down for a moment because it's being downloaded into your spirit). So I'm going to pray and then we are going to get right into it.

Father God, in the name of Jesus Christ, we come before You Lord, we praise You, that You are God, there is none like You, You're the Alpha and Omega, You are El Shaddai, You are Jehovah-Jireh, you are Jehovah-Nissi, You are the King of kings, and the Lord of lords, and we come to You and acknowledge Father that Your Son Jesus was sent; Your one and only Son to die in our place, to die on the cross for the sins of men, Father God, that we would not perish but have everlasting life Father God. We glorify You this day, we ask and declare in the name of Jesus, and receive Your powerful anointing.

Your presence Lord powerfully consumes this broadcast like the Oil of Gladness Father God; the Oil of Peace Father God; the Oil of Revelation starts in our heads and goes down to our feet Lord, that people feel the anointing Father God throughout their bodies, in their living rooms, in their bedrooms, wherever they are listening to this Lord. Holy Spirit, in the name of Jesus you are welcome, consume this place in this broadcast, have your way for the glory of God in Jesus name, Amen, and Amen.

So the night of the 17th into December 18th this is what I heard, and then we're going to get into the Word I heard vibrated text vibrated text remember the Lord our Father will give us clues sometimes they'll give us pieces to the puzzle to dig so we can put them together and receive revelation so I heard vibrated text.

I heard the people there is going to be a choice and then the Lord gave me an image of a person dressed for winter I could not see the head only the body it was this beautiful gray and white sweater and the white was like glowing white it was incredible and their hands were like this their hands were like this and the snow was falling upon them.

And then I was given another image after that of rain, a steady downpour of rain, large vertical droplets like this big each, I'm not kidding you, some of the largest I've ever seen falling, and I audibly heard 'The latter rain will be greater than the former' all glory be to God!

And then the Spirit came powerfully upon me, the Holy Spirit, and I was given this Word, and I'm going to deliver it now in Jesus name by the power of the blood of Jesus Christ me only the truth come forth. 'I the LORD thy God, and the King of kings, and the Lord of lords, My throne is everlasting, and to My kingdom there is no end to the season says the Lord.

Seasons change says the LORD thy God, and we are indeed approaching the changing of a season of a time, the winds of change are blowing in says the Lord, however this season will not end until everything hidden is exposed and brought to light that I have decreed says the Lord.

As it says in Numbers, their sins shall find them out like a spiritual tracking device says the Lord. The sins of those things done in secret, hidden in secret, have left imprints in the spirit, have left evidence in the natural, and I the LORD thy God will lift up that evidence and bring it before the eyes of men and before the eyes of the law says the Lord.

Yes says the Lord, every area of human life, families, churches, government, businesses, highly with those who take part in detestable occultic practices, an influx says the Lord of Truth will swell and burst.

And, says the Lord, like a raging river the truth with power and force will come forth that has stubbornly been hidden, and the enemy's last strongholds, the stiff-necked, digging in their heels, the reprobates, swimming in illusion will have truth swell and burst in key and pivotal situations and will knock those to the ground who so recklessly hid their deeds in the darkness.

They will now experience the powerful light of God that pierces the darkness and exposes every little thing hidden in the shadows of sin, the shadows of generations, the shadows of government, the shadows of those wearing the Christian name to throw people off course to their real lives that are kept under lock and key. However, I the LORD thy God him smashing that key breaking the locks and rescue missions will occur in order to set the captives free says the Lord.

Oil, there is a battle ensuing over the oil supply, over who has the power, however, by the Lord and for man who or what can be against them gird up your loins brace yourself with the armor of God and watch says the Lord, will set the tone CAPITAL LETTERS keyword for years to come as a pivotal year says the Lord; a line in the sand, a crossroads, and my children will have to decide whether their faith is great enough to step into the plans I have for their lives which may very much differ than what the world and their families and schooling dictated they should be for I the Lord in a demonstration of My power, raising those up into positions that they had no schooling for, into areas they never walked giving them a voice they never knew they had grace right on time. Glory to God!

My power needs a demonstration upon the earth, My power needs to be made known from mere men and their humanists think for mere men in their humaneness think they control the comings and goings of the world, 'Ha' says the LORD thy God for I am the one who sits on the throne noting capital letters is done a planned in secret for my angelic army is dispatched in great collecting evidence listening to conversations hidden to conversations in hidden walls in underground operations and those who think they had their underground operations under control well says the Lord I am shining a spotlight from the Heavens and exposing these underground layers and the more.

This is interesting, I expose but in capital letters it wrote AI artificial intelligence exposed the more these very corrupt beings will be put on the run; He's calling them 'beings.' Now is the time of trouble for them because they will be found out over and over again and will have no rest because they will be put on the run; the weariness of being watched all the time by the law and other intelligence forces will weary them, and they will make big mistakes as the Lord right now says.

The Lord I need my children praising me, and listening for instruction, listening for which way they should walk.

Joy, CAPITAL LETTERS, be joyful right now says the Lord. I want My children joyful, creative, rising above the circumstances the enemy created to try and chain them to the ground to prevent them from rising above the baggage and the burdens they were bogged down with since birth says the Lord. 'Ask and you shall receive in the name of My son Jesus, for it is My desire to hand out keys for the upcoming year; spiritual honey to make life sweeter, weapons to tear down strongholds, strategy to knock the enemy back, and the courts.

'Ask Me about the Heavenly Court' says the Lord. Satan is a liar, a serpent, a snake, a thief; come to my courts and petition the Judge who is also your Father, to render a verdict in your favor requiring by spiritual law that the enemy must give back, pay back, what he stole from you including years says the Lord.

The order of darkness of Hollywood, of CEO's, and of businesses; the order pertaining to the secret order within these structures is frail, there is a brittle part that is breaking, and disintegrating, and malfunctions are happening. Those of Fame are slipping, and revealing that it is not all glitz and glam, but a torture rack to become 'famous,' a torture rack to work with the best in industry, and within this torture an insatiable desire to split the soul so they become dolls, living dolls with no souls know. That I have spared many from this life and My children, I desire to fill to the brim. The enemy looks to deplete and drain, I the Lord look to fill an increase. 'Choose you this day whom you will serve' says the Lord the King of Life, or the Prince of Death.

Jezebel like spirits have been sent out as coiling snakes looking to bite and inject poison to paralyze their targets so they are trapped in no-win situations, in ungodly situations, so they get confused to is for them and who is against them thus says the Lord they are attempting to attack the neurons in the brain within certain songs within darkness on the television within the video games are spiritual arrows that have been loaded. They contain potions to confuse the neurons so the brain feels foggy so the person feels oppressed. Some arrows are meant to inflict physical pain, others emotional pain, however, the armor of God, petitioning me daily and putting it on breaks these arrows like a reed and disintegrates them into a powdery dust.

'Feed your mind with my word' says the Lord. New illnesses to attack the mind have been concocted by the enemy and are being unknowingly injected into the minds of the young where the doctors cannot quite figure it out because says the Lord 'It is a spiritual problem that medicine cannot fix.' Ask the Lord and receive oil to coat and nourish your mind and gold to seal it says the Lord, the gold of the helmet of salvation.

'Ask Me to fortify your foundation, ask Me to fill the cracks and I will dispatch angelic armies to fill those cracks for many are under construction and are being redeemed for a life filled, from a life filled with pain and sorrow.' 'Pain and sorrow taken root produces either bitterness' says the Lord 'or endurance, it is a choice and choosing endurance with the Lord literally backfires all the enemy's hard work as I am using what he meant to destroy you to now lift you up and vindicate you' says the Lord.

'There are keys, and the Book of Revelation' says the Lord 'that fit with the books that go before it asked of me to see what is right in front of you in my word to truly see what is right behind the veil for Revelation connects like a puzzle to the books that precede it and will give revelatory answers to events happening now and will reveal events to come. X+Y=Z' says the Lord, 'they follow each other like the alphabet, and those who truly seek me with a desire to learn, with a desire to unlock, with a thirst for revelation knowledge will be given downloads from Heaven, will be given visions and pictures that will be amazingly rich in wisdom and revelation knowledge.

I the lord have the answers, not Socrates or Galileo or Columbus, I the lord have the answers to mysteries in the world, petition Me, ask of Me, I freely give to those who ask with eyes to see and ears to hear. Let those with eyes to see and ears to hear hear what the Spirit has to say for the Holy Spirit is very ready to talk and divulge and reveal' says the Lord.

'The hour has come' says the Spirit, 'for me to reveal mysteries of the Kingdom to those who want to burst out of the box and learn beyond what they see. I am eager to pour out a fresh burst of anointing that will leave those trodden down feeling invigorated, refreshed, cleansed, and renewed, and they will now hit the ground running by spring' says the Spirit.

Yes, the Winter will give way to amazing new beginnings in the Spring, new adventures for my children, my little ones who have grown up walking and talking with me will be going out into the world in the spring and preaching the gospel and go on an amazing adventure with their Papa I the LORD thy God for I am filled with I am filled with an overjoyed pride at my little ones who were once timid and frail have now become roaring lions firm in their faith abundant in wisdom and knowledge warriors amazingly skilled and an in tune to the Spirit for yes I am tuning my children up for the spring and they will be fully in tuned by spring as work out as I work out the out of tune sounds and emotions from their lives and put in their hearts and souls a new song and a new mindset many of you feel as if you are wearing a backpack filled with bricks that is the enemy's wicked forces attempting to throw a spirit of burden upon you yes the spirit of burden has a weight to it and it is meant to attempt to slow you down I am dispatching my holy angels to cut the ties that attach that spirit and you will feel the weight full from you says the Lord command it to go in the name of Jesus and feel it fall burden will leave with its tail between its legs this part of the season will be a whirlwind season in the spirit and in the natural and there will be events that are fast and furious in order to blow a freight train through the enemy's strongholds and quickly dismantle plots and plans so they can be stopped for there will be an anointing that blinds wicked entities to you and what I am doing in your life where as Pharaoh could not see the Jews through the fire so the fire of God will make it painful and difficult for the enemy and wicked spirits and wicked people who host these spirits to see you or engage you or get near you says the Lord ask in Jesus name and this protection shall be brought upon your life in Jesus name the depths of my love for my children go beyond what they could fathom and I hurt when they hurt I laugh when they laugh and I the Lord the great I am CAPITAL LETTERS am a God of my word I am NOT CAPITAL LETTERS a man that I should lie and you believe really believe what is in my word and creative miracles will come forth from my children to share to bring glory to my name and to help my flock I am going to flood the beginning of with power upon my children this flood will also raise a standard against the enemy as those who have tried to hurt my children will be consumed by the flood as they must sit there and watch a flood of blessing come upon my children in ways that will leave people puzzled and dumbfounded a flood of blessed that will come forth suddenly and will also be for my children to bring further glory to my name and be a blessing to others and those who attempted to do my children in to steal their blessings siphon them for their own greedy delusions will have no capital letters part in the flood of blessings the heavy rains filled with blessings that will fill my children overflowing who have been called faithful and they will see that they have been that they have been had and that all their attempts in their humanists and their bragging at what they gained will look as nothing compared to what they will witness my children receive lift up your head and rejoice this day my children is going to be a split year glory and blessing and vindication new beginnings and adventures for my children called faithful they shall rise and simultaneously the wicked the corrupt those who have hated my children and tried to hurt and destroy them who use greed and abuse and delusion to control circumstance will fall and sink their ship will sink their plans will fail their delusions of grandeur will burst and they will be brought low March forth my children move on into the promises of yes and amen and enjoy the ride because every place I take you everything you see every bit of information you learn along the way will be a testimony for my glory I love you so so much in Jesus name.

Glory be to God, and that was the word December 18th so pray about it, always pray about it, take it to the Lord in the Holy Spirit. I pray it blesses you.

(Amanda Grace Talks, "A WORD FROM THE LORD! AND WHAT SHE HEARD IN THE SPIRIT! POWERFUL," YouTube, Dec 20, 2018, https://youtu.be/LYAqbLvN1Fc; transcript was auto-generated by YouTube and contains errors; emphasis added)
Hank Kunneman
For God says, do you think that I have lost control? For I tell you in this time that I have an arsenal, a host that is standing upon the horizon of this planet that are ready to shift things in favor of me and of the risen Christ Jesus. Do you not understand that in this moment of time that this earth is being awakened to my goodness and to my power, and to my Glory? For my Glory, yes, it shall come and it shall overcome the darkness and you will see the manifestations of my power in unusual ways and unusual places." And God says, "It shall deal and grab a hold of the spirit of fear by its neck, for it shall lose control because of my goodness and my glory that are coming upon this earth.". (Sid Roth Interview, February 8, 2016, transcript, p. 2)
Good News for the End Times (CD, 5-CD Set & Book) by Hank & Brenda Kunneman.
Neville Johnson
The greatest outpouring of the Holy Spirit that the world has ever seen. We thought the days Pentecost was a great outpouring of the Holy Spirit in the early church but this will be seven times greater, what's coming. The latter rain was always seven times greater than the former rain literally in Israel. The latter rain that literally fell was seven times greater than the former. We're going to get at least seven times greater than what the early church had. (Lancaster Prophetic Conference Ebook, August 2015, p. 196)
Patrick Schatzline
The Wave
Last year on June 1st [2014], I had this dream and I always say I have a sleep disorder called revelation. I have a lot of dreams.

And we have a lot of prophetic dreams, and I write about them and all that. But all of a sudden in a dream, I'm running with my wife and we're running off across a giant map of America like you would see on a floor, you know, somewhere a big map of America, and we're running. And there's a wave chasing us, and it's crashing, and it's scary. And in the dream I'm weeping and I'm screaming, "Come on , Karen, we got to get people to safety! We got to get people to safety!" And suddenly we were standing at the White House. And we ran up the steps and we wrap our arms around the post, and the wave hit. Now I didn't know Karen also had this dream and wrote it in her prophetic dream manual. I didn't know that. She always gets revelation before me. But anyway, all of a sudden, that day I wake up. I have to speak, it's a Sunday morning, I have to speak, I'm overwhelmed. I'm like, God, you promised in Genesis 9:11 that you would not do this again with a wave. Why did I dream this? Al l day long. Suddenly the Lord speaks to me, "Son, what you saw was not judgment. You saw the next wave of revival that is coming to America and it will be the final awakening that is coming." And I began to weep uncontrollably.

Since then I've had this dream over and over of the wave. Others came to me and said, "I had the wave." But I believe with all my heart, and I know we hear a lot of gloom, despair and agony on me for America and all that, and I do believe our nation is in trouble. But I also believe that every great move of God, now I did a study on this and that every 20 years there's an outpouring of God and usually it's right before a war or after a war, or before a depression or after a depression. Do you know that we're sitting on the 20 – year mark right now for the next move of God to hit America. It's going to break out. But I don't believe it will be in one city in this place. I believe it's going to be hot spots across America.

And I was flying in a plane across America a while back late at night, and I saw lights off in the distance in different places, and the Lord said, "That's the wave of revival that will hit America. There will be hot spots. Then there will be other places that the Holy Spirit walks past, churches he no longer stops at.

Those that are not preaching truth and standing on God's work, he will be forced to walk by. We cannot put God in our compromised box." He says, "Let me pour out my spirit." The wave that is coming, it's coming very soon and it's going to hit our nation. (Pat Schatzline, Transcript, pp. 6-7)
Sadhu Sundar Selvaraj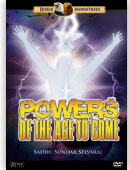 2016 NEW YEAR PROPHETIC MESSAGE BY PROPHET SADHU SUNDAR SELVARAJ
"This is the year, this is the time to prepare for glory, because it is coming, therefore prepare."

10 Go through, go through the gates; prepare ye the way of the people; cast up, cast up the highway; gather out the stones; lift up a standard for the people.
11 Behold, the Lord hath proclaimed unto the end of the world, Say ye to the daughter of Zion, Behold, thy salvation cometh; behold, his reward is with him, and his work before him.
12 And they shall call them, The holy people, The redeemed of the Lord: and thou shalt be called, Sought out, A city not forsaken. (Isaiah 62:10–12)

"During this year that God is going to pour out his glory, we should prepare." (YouTube, Jan.4, 2016, 42:30)

"God is going to pour out his seven spirits (Isa.11:2): wisdom, revelation, counsel, might, knowledge, fear of the Lord, spirit of the Lord:

"And the spirit of the Lord shall rest upon him, the spirit of wisdom and understanding, the spirit of counsel and might, the spirit of knowledge and of the fear of the Lord;" (Isaiah 11:2)

"God is going to pour them out upon his true believers."

"July 2015 he was instructed to write a book on the seven spirits of the Lord because God is going to pour out the seven spirits." (48:50)

"It is the result of two books:On Doves Wings, this is about the nine gifts of The Holy Spirit; On Eagle's Wings, this is about the seven spirits of the Lord. You need both books to understand this subject, the seven spirits of the Lord need the nine gifts of The Holy Spirit…a timely subject.
He saw Jesus dressed in a robe with the seven colors of the rainbow = "The Lord of the Seven Spirits," they will flow from Jesus Himself.
"Therefore the body of Christ must be prepared to receive this anointing."

"(51:40) Another reason to get ready the word of the Lord said to me, the bride is going to get caught away in The Rapture, therefore the bride must prepare. (Rev.19:7)"

7 Let us be glad and rejoice, and give honour to him: for the marriage of the Lamb is come, and his wife hath made herself ready.
8 And to her was granted that she should be arrayed in fine linen, clean and white: for the fine linen is the righteousness of saints.
9 And he saith unto me, Write, Blessed are they which are called unto the marriage supper of the Lamb. And he saith unto me, These are the true sayings of God. (Revelation 19:7–9)

"(57:11) The next is, God's Army is going to rise up mightily, therefore prepare. Joel 2:11 the Lord God is going to roar and call forth His army, so His army must prepare. Army of little children, army of youth, army of mothers, army of seniors, army of the ministers of God."

"Prepare, prepare, prepare, that is the word of God for this year. Prepare for glory, the glory is going to manifest, the glory is going to bring forth, the glory is going to break out, prepare."

"(01:20:00) "God is going to pour out His seven spirits, we must be ready and totally yielded to God."

"(01:20:25) He showed me a vision of how heaven is preparing to pour out the glory. I saw a glorious place in heaven, I saw many angels coming out and they all had bowls in their hands and also many eagles coming out and they represent the prophets and saints in heaven. (Heb.11:24) Old Testament saints are not complete without us. The bride is being prepared for the bridegroom. This is your year, to prepare for the bridegroom, you won't get a second chance."

"(01:41:20) For so long God has been patient with his people. (Rev.6) Many martyred saints cry 'how long more keep we quiet'?"

"(01:42:46) Now the Lion of Judah has risen from His throne, He will roar against his enemies… church walls and roofs will come down and many will die. (1 Peter 4:17) Judgment begins at the House of God."

"(01:52:00) "God is sending eagles, who are saints, to your homes to teach you. I see a nest being made in your home, to habitat in that nest. They come to teach, so prepare your homes and heart. I see a huge bible over your house and the eagle is seeing what needs to be taught there."

"(01:53:10) 'Come out of her,' come out of all that defiles."

"Who is the wise man who will judge himself first before he is judged by the Judge of All."

"01:56:10 Some of you ministers of God have stolen God's money, and you have stolen other people's money. Repent or a worse evil will come upon you. let us humble ourselves before God."
Smith Wigglesworth
SMITH WIGGLESWORTH, THE GREAT REVIVAL
The following is an end time 'rare' prophecy given by Smith Wigglesworth in 1947.
Two Distinct Moves

During the next few decades there will be two distinct moves of the Holy Spirit across the church in Great Britain. The first move will affect every church that is open to receive it and will be characterised by a restoration of the baptism and gifts of the Holy Spirit.

The second move of the Holy Spirit will result in people leaving historic churches and planting new churches.

In the duration of each of these moves, the people who are involved will say 'This is the great revival'. But the Lord says 'No, neither is this the great revival but both are steps towards it.' (http://philiptj.wordpress.com/2013/11/22/prophetic-word-for-our-nation/)

6. The Word & Spirit Prophecy: Smith Wigglesworth prophesied that after two moves of God (one came to pass in the Anglican renewal, the second in the house church movement) the third would be a coming together of people of Word and Spirit, and this would lead to the greatest move of God the world has seen, eclipsing even the Welsh and Wesley revivals. I have never known people of Word orientation and Spirit orientation come together like they are in forums right across the nation. This is that time! (http://jarrodcooper.net/2012/01/05/10-clouds-in-the-sky/)
Brian Simmons
I HEAR HIS WHISPER…
'The Great Outpouring'

Today you stand at the threshold of a new beginning. All that is around you will change and all that I have planted within you will now grow and bear fruit. For I have great things in store for you, things no one has ever proclaimed to you. Many speak of the rain that will soon fall, but I say, it will be a DOWNPOUR on you! Many speak of the fire, but they have never been consumed. But with you, My fire will rage and not be contained by the structures and theories of men.

There are many who wish for a new day, but you will be lifted suddenly into a season beyond your imagination or your dreams. For it will be MY dream that will be fulfilled in your life. Many scoffers will be swept into My presence and become believers in one day. Many doubters of My power will leave their limitations and pursue ME as never before. The time of the great OUTPOURING upon the nations is near. It will be a day of repentance and a day of gathering. Those who ignore My truth will be ignored. Those who refuse to gather themselves together will be scattered even further. For I will be worshiped in SPIRIT and in TRUTH.

So stand firm in Me until I have become your confidence. Set your eyes upon Me and don't be worried about your future and your calling, for I am the God begins and completes, the Alpha and the Omega. You have seen many times as the Beginning, now you will see me as the Finisher!

Philippians 1:6 The Passion Translation

I pray with great faith for you, because I'm fully convinced that the One who began this glorious expression of grace in you will faithfully continue the process of maturing you through your union with Him and will complete it at the unveiling of our Lord Jesus Christ! (March 14, 201 – The weekday e-mail from The Passion Translation)
Brian Simmons recently shared some of his many testimonies on Sid Roth's TV program (2/2/15) and Radio show (1/26/15). The following excerpts are from the radio show. In 2009 Jesus appeared to Brian and said:
"I am commissioning you to do this translation project. He breathed on me, he blew his breath upon me, I'll never forget that experience. And he promised me, that he would give me help, that he would stand with me and give me secrets of the Hebrew language and secrets of the Bible and that it would be for this last days awakening." (The Passion Translation Set of 8)
A translation example Brian gave is found in Luke 4:
"'Jesus taught in the synagogues and everybody glorified him,' but in the Aramaic text which was the language of Jesus it reads 'Jesus taught in the synagogues and offered everyone glory.'"
Brian was privileged to visit the "library of heaven" and allowed to take two books, but there was a third book that he also wanted called "John 22." This caught his attention because John's gospel only has twenty-one chapters. Apparently it is about the last move of God and Brian was promised he could return at a later time and take it.
In 2010 the Lord again appeared to Brian and said:
"'I'm going to restore the principles of Finney's revival' and said 'I'm going to give you two right now and the other eight you are going to have to search out and find.' The principles of repentance and prayer were the two that he gave to me and he said that repentance always precedes revival, and every revival can be traced back to a prayer meeting.'"

"Charles Grandison Finney (August 29, 1792 – August 16, 1875) was an American Presbyterian minister and leader in the Second Great Awakening in the United States. He has been called The Father of Modern Revivalism. Finney was best known as an innovative revivalist during the period 1825–35 in upstate New York and Manhattan, an opponent of Old School Presbyterian theology, an advocate of Christian perfectionism, and a religious writer." (Wikipedia)
Brian went on to explain what was significant about the ministry of Charles Finney:
One of the great features of Finney's ministry was a fifty-mile radius around him wherever he went. The unusual atmosphere of heaven was tangible, people would repent, come to know Jesus, even though they didn't even see Finney. Just the fifty-mile radius around him released the tremors in the natural realm. That's what's coming, that's the glory that's coming in these last days.
Brian shared many more things and Roth asked him when these events would take place? Simmons replied:
"I believe it is imminent, 2015 is the year of experiencing this awakening, the glory of God drenching the earth…when the devil sends his worst, God sends His best. 'There was a man sent from God whose name was John' and I believe there are going to be 'John the Baptist Breakers' who are going to go among the nations and shake off the status-quot and bring the light of a new day to the earth."

"The first few months of 2015 will be the most crucial, significant, months in the history of America since the last one hundred years. A move of God is going to hit the North East, North West, Florida, Southern California. And there's going to be a powerful move of God in Kansas City. Five regions are going to open the heavens creating a canopy of glory over America."

"Be a dispenser of the divine… bring forth The Christ in these last days, 'The Christ in You' company that will reveal him to the earth."
From his web site:
Brian and Candice have been described as true pioneers in ministry. As a spiritual father and mother, their teaching and spiritual gifts have opened doors in many nations to take the message of authentic awakening and revival to many. For the last 40 years they have labored together to present Christ in His fullness wherever God sends them.

After a dramatic conversion to Christ in 1971 Brian answered the call of God to leave everything behind and become a missionary to the tribes. Taking his wife and three children to the jungle of Central America they pioneered church plants for many years with the Kuna people group. While serving as missionaries, Dr. Simmons planted churches and established leadership for the churches that Jesus birthed. As a linguist, Brian also was the co-translator for the Kuna New Testament. (www.stairwayministries.org)
Bob Jones
Bob Jones (1930-2014) and "abiding glory":
For a long time I spoke that we would begin to come into this relm [abiding glory] in 2012. I believe things began to happen in 2012 to pave the way for this. I think things began to happen which we have not seen [understood] yet that's going to begin to be revealed.

I think 2013 is going to be really something, also to bring this about. And 2013 and the next three or four years is the beginning of that harvest [one billion souls], that glorious harvest. That harvest is literally without end, the harvest I believe will go on for all eternity.

So I think that right now, the main thing and the main calling that will be going out now is youth are being called in. Get ready for the glory of God to rest on youth. Get ready for the over 50's to lead them. So I think this year, 2013 we're going to begin to see the beginning of the harvest, and unending harvest it comes.

I think now begin to get ready to see the glory where it abides and to where all can see it. I think even the unsaved, when you see the glory, you won't have anything to believe in but it. I know when I saw the glory, it burned my carnal life, I never wanted anything to do with it again. I wanted the glory, I still want to see it. I want to abide long enough down here to see it upon the body. And the glory that never perishes. So this is where I feel we are. To see where you're going, you don't have any fear of the enemy, fear has no place within you because it has no place to abide in you.

I believe one billion people, and it will still abide. When I go home, it will still be here. ("Blueprints From Heaven," GODTV, 8/17/2008)
Gary Beaton
The Baptism of Fire is about to take place in the earth. Jesus said John came to baptize, but I come to baptize you with fire. That hasn't happened yet, but that is about to happen in the Great Awakening. The Baptism of Fire is about to take place.
…
We're going to burn in the glory of Christ as a burning bush to this world. (Gary Beaton, "Beyond the Veil Glory Explosion IL Part 5," YouTube, 9:43, April 6, 2014)
…
God's about ready to send power in the earth. It doesn't need extra generators. He's about ready to send the real Tesla Coils to the earth and lightning will come out of our hands. That's the truth and people will not be burned. Do you know that when the Two Witnesses appear in Jerusalem, it says that fire comes out of their mouth. You look up the word "fire" in Greek and it means lightning. Lightning is going to come out of the mouth of Two Witnesses in Jerusalem, it's going to be on CNN, Fox, and everything in the world. Talk about stunning. And no one can stop them for 3.5 years. (16:35)

In Acts 3:19 he's held back in heaven, restrained, until the time of the restoration of all things spoken of the prophets of old. So do you think there's some things that the prophets of old spoke that haven't been fulfilled? Yes. Jesus is not coming until the restoration of the old things that old prophets prophesied; and we think he could come tomorrow. He could do whatever He wants, but I don't think He's coming tomorrow, cause we have work to do. We're in the most exciting times ever, because we're going to be given this window of time in Daniel 7:22, [22 Until the Ancient of days came, and judgment was given to the saints of the most High; and the time came that the saints possessed the kingdom.] A window of time to bring in the harvest, to walk in the glory in the earth where their not putting their boot on us.

The judge of the universe rules in our favor. We have a time shift where we are here now empowered above princes, kings, governments, where we will have a say, and they will be calling us to Buckingham Palace and the White House, and to every government and they're going to say 'What do we do?' Here's what you do. You repent and get your whole kingdom to come to Christ. And some of them will say 'Yes, that's what we'll do.' (29:00)

Things are out of order in the church, in governmental realms, it's so out of order because they don't understand honor. They don't honor intercessors. They're lesser than, their just a group of people who pray and they're out there. But, tell me what God's saying to build my ministry up, so I can be lifted up and know what God's saying so that I can have great sermons and tell people what God's saying, but don't give them any credit. (33:37)

It's true the Lord called me and anointed me in the spirit of truth and there's a boldness He grants when He's given that to you. So, this is just the start. I haven't even begun to start getting bold yet. It's the truth. This is by Holy Spirit. (34:15)

David and Solomon were buried together in Jerusalem and they've never been found and other kings were buried in the City of David with them. (Daniel 2:20-22) He knows where the hidden treasures in secret places are. In fact, He created David's tomb. When you go back to 2 Samuel 7 (45:40)
Derek Prince
Derek Prince (1915-2003), founder of Derek Prince Ministries International wrote more than fifty books, was educated at Eton College and Cambridge Universities, studied Hebrew and Aramaic at Cambridge and at Hebrew University in Jerusalem. His daily radio broadcast, Derek Prince Legacy Radio, still reaches listeners around the world. He lived and died in Israel.
I will shake all things – Part 1: The Nations – Derek Prince
I will shake all things – Part 2: The Church – Derek Prince
Chastises doom and gloomers:
I have met fellow believers who are so busy with theories about the antichrist – his number, his name, the countries he will rule, the methods he will use, how he will put his stamp on people's foreheads and hands – that they are almost advertising agents for him. Our business as Christians is not to be witnesses to the antichrist but to the Christ. Jesus said, 'You shall be witnesses to Me.' (Acts 1:8) (Derek Prince, Prophetic Guide to the End Times: Facing the Future Without Fear, 2008, p. 19)

As a brief recap, here are three basic principles for a right attitude toward the future: 1. We are waiting for Christ, not the antichrist. 2. Christ already reigns and will continue to reign. 3. Christ exercises his authority through us always and everywhere. When we grasp those facts, we are going to face the future with strong confidence because our hearts are ready. (p. 31)
Prayers are a waste of time. Corruption is progressive and irreversible:
There are two principles of corruption: It is always progressive, it always gets worse, and, all corruption is irreversible. There is no way to turn back the working of corruption…the corruption in the world is progressive, it'll never get better, it will always get worse and it's irreversible. There is NO way to reverse the process of corruption.

So all Christian prayers, and schemes, and plans, that are, whether they know it or not, directed towards reversing corruption, ARE A WASTE OF TIME and money too. This is why we need Biblical prophecy, it saves us a lot of wasted time, and effort, and money, and disappointment. ("Derek Prince – Prophetic Guide to the End Times – 1," YouTube 46:25)
Notes
Like Arthur Burt, Derek Prince learned that the greatest offense to God is personal pride. It is important to know that we are creations of God and therefore His subjects. Lucky for us, He is a God of love, joy, and free will. But, we should not confuse free will as a license to do whatever we will. If we are pursuing His purpose for us, we will be fulfilled not bored, full of joy not lost. It is a process says Prince.
Percy Collett
Percy Collett (Dec. 8,1902 – Nov. 25, 1998) was a missionary who spent a great deal of time among the Indians of the Amazon jungle and all over the world. God placed on his heart the desire to pray for a visit to heaven. After seven years God granted him this desire. He was there for five and a half days.
Tapes: 3, 12 tape albums – 1984.
The late Dr. Percy Collett's story, told by himself in 12 audio-cassettes, 12 hour tapes, on how he was taken by two angels in his spirit form for five and a half days of glorious experiences inside of heaven talking with the apostles, the prophets, the archangels, and hearing the voice of God.

 

1-Introduction to Heaven

2-The Glory of God Demonstrated

3-Resurrection Explained

4-Joy of Heaven

5-the Horrors Past the Left Hand of God.

6-The Second Coming of Jesus.

7-How Does The Bride Make Herself Ready

8-Martyrs' Para De

9-More About Heaven Live Recording

11-Flowing in the Holy Ghost Live Recording

12-Riches of Heaven. The cassettes are in a vinyl original case. (Description from

Amazon

)
Sample 1
Sample 2

Book: I Walked in Heaven With Jesus, 1986
It is a most extensive experience retold in over 35 hours of recordings and in a book which can be perused here and on Youtube. A central theme Jesus repeated to Percy while he was 5 1/2 days in heaven was the coming "Great Explosion."
In the following excerpt Jesus explains how it will happen, what it will do, and the sequence of events:
The River of Life is filling up and then it will pour forth…and in that river is love…the spirit of God is different than the Holy Ghost…when this is full to its banks, then God will open the flood gates and after that I'll come for my people, I'll come for my church, I'll come for my own. I will leave heaven in my heavenly body…He said it won't be long because it's filling up.

When He opens the flood gates it's going to flood all through.

Now who's going to accept this? Those who are looking for The Great Explosion. Your part now is to prepare and get ready for The Great Explosion. Then there are those here who will get it. The prayer warriors…For those who are ready for it…it will go right down into the bellies of those who are ready to accept it, as it fills their bellies with it, God's power will come out of their bellies and they will start to speak forth with authority, devils and diseases will begin to move back and this explosion will be so great it will rock the earth.

They'll [Overcomers & Intercessors] get out and preach in the streets, here there and everywhere…he'll have so much fire in his soul and by the power of the spirit of God [not the Holy Ghost] and crowds will begin to gather and then the earth will shake, The Great Shaking will take place. When that Great Shaking takes place, the bottoms of those old churches will shake and the spires will come tumbling down…not one stone will be left standing that's anti-God! ("Percy Collett goes to Heaven for 5 1/2 days," YouTube, uploaded by Jason Cox, 36:00)
Notes
River of Life
The River of Life is the spirit/love/glory of God that flows out of His throne and is not the Holy Ghost but has or will cause similar affects when it reaches the earth. Jesus told Percy that when the river is full then God will initiate His Final Act – The Great Explosion. Percy said controlled amounts have already been coming to earth.
Flood Gates
The River of Life is many miles deep and is being held back at the very edge of the Third Heaven by what Jesus called "The Floodgates." Percy saw those floodgates and he said the river was actually beating against them and one day God will actually kick them open with His foot.
The Timing
The sequence of events will be:
a) The City Foursquare (also known as The New Jerusalem) will arrive, half way between earth and the Third Heaven and will be The Sign of Jesus' Coming.
b) The Floodgates open releasing The River of Life which is God's spirit, power, and love (and is different from the Holy Ghost). It first floods the outer areas of the planet Heaven containing those who barely made it in (millions of death bed confessors) before it pours forth onto earth.
c) Those who are prepared for it will receive it first, particularly The Mighty & Strong whom Percy referred to as Overcomers and Intercessors who will then go forth with incredible power to turn as many as possible to God so they may be Raptured when the time comes.
d) The earth will shake as the result of so much power flowing into it. It will come in waves and it will manifest in one area and then another. Anything not of God will crumble. From the crumbling pattern the entire world will know which organizations and churches are of God.
e) The Resurrection. Once enough of the power of God has gone into the graves and revived the dead, then, after God gives His command, they will come forth and rise up into The City Foursquare.
f) The Rapture follows and occurs simultaneously with The Resurrected.
g) Then The City Foursquare will return to the Third Heaven where it was before God's throne and Jesus will present the redeemed to God as that innumerable host John was shown (Rev.7:6).
Great Explosion
Although called The Great Explosion by Jesus, it will pour forth slowly "like honey over an apple" not explode like a bomb.
The Mighty & Strong
Those who receive the spirit and power of God first will be the Overcomers and Intercessors or those who already have the love of God in their souls. These will come forth and perform the duties of The Mighty & Strong.
The Shaking
The Shaking will come as a result of so much power going into the earth, and The Mighty & Strong will also cause the earth (and people) to shake by their power. The damages will be selective.
Limitations
There are some limitations with what Percy was shown. His prayer was to be shown God's glory and heaven, which left out the future of earth and hell. But because heaven and God's glory will be coming to earth to do a work, Percy was shown some of the earth's future. Same is true with Kat Kerr.
Percy admitted that he never studied The Revelation of John until after his experience, therefore any of his suppositions of prophecy and The Revelation of John are suspect and should be scrutinized. It is odd that he and Kerr were shown so much of heaven and yet so little of God's Final Act, even though Kerr has attempted to merge the two – the glories of heaven (another world) and our contemporary future (our world) which doesn't work.
Percy himself used the expression of a person being so heavenly minded they are of no earthly good. Of course any information about our final abode can only help and when his information came forth Near Death Experiences were still taboo. However life after death is now widely accepted and information about heaven is readily available. Granted, if you were soon to die (as Percy was), a focus upon heaven and the heavenlies would be warranted.
What Percy was not shown was certain of The Resurrected and The Raptured coming back to administer with Jesus through The Millennium of Peace, the outcome of Israel, the "other place" (hell) , the coming decision – The Long or Short Version, etc.
Jerry Savelle
Do not give your adversary a second thought for this is the year of the Greater Glory. God is about to reveal His glory…it's going to keep getting greater and greater from here on out. In fact, I believe it is the move of God that is going to usher in the appearance of the Lord Jesus Christ. (Jerry Savelle, "He Shall Reveal His Glory," YouTube, 08-24-14).

'A new wave of my glory is what shall be seen for this is my plan for 2014…Isaiah 40:5,' (He Shall Reveal His Glory Jerry Savelle 08 24 14, 21:15)

He said never stop celebrating what I've already done and expect me to do greater and it will come. 2014 will be known as the year of The Greater. He said I am ready to do a new thing the likes of which you've never seen. My glory will come in such a way that you'll stand in awe and begin to say 'My God, my God, I never knew I'd get to see this side of you, such splendor, such power and magnificence too. No wonder the earth will bow down to you.'

The prophets said these things would come to pass, and now they're here, at last, at last. The greater glory they spoke about, we're in it now, let's shout, let's shout. A new wave of glory is what is planned for 2014, our God is taking us to a brand new place and soon we will see him face to face.' (27:09)
Notes
Jerry Savelle received the initial word of the Lord of "greater glory coming" in October 2013. He claims it has been growing ever since but has failed to acknowledge the equal growth of darkness that has obscured those increases to the average person. A major confirmation came to him in 2014 with a one million dollar donation into his ministry.
Lydia Stanley Morrow
Church Of his Presence, May 26, 2013, Alabama
"There is coming a great shaking, there is coming a great shaking, and now will be the great clash between the kingdom of darkness and the Kingdom of Light. Nations will fall, kingdoms will rise – and you are not to panic", says the Lord, "because I have got you. You are my people. You will shine like the stars in the heaven for I will pour out my favour on you, I will pour out my signs, I will pour out my wonders", says the Lord, "and in the midst of the shaking you will stand firm upon the solid Rock. Peace, be still", says the Lord." (http://richards-watch.org/2013/05/29/prophetic-word-in-worship-coming-great-shaking/)
John Kilpatrick
John Kilpatrick of Church of His Presence, in ministry for fifty-years was given 20 Words of Knowledge & Prophecies, December 27, 2015:
Year Of The Wind
This year will be very unusual on many levels. As a matter of fact, a phrase will be repeated over and over on the lips of people of many nations. You will hear it said, 'I have never seen anything like this before.' There will be a great stir among the people of the nations. Seemingly, nothing will remain normal any longer. This will not be just an American phenomenon, but it will touch all the continents.

• The Lord shall rise up and make Himself known.
• The forgotten shall shout for great joy.
• The heathen will see a great light.
• Unbelievers will take another look.
• Experts will be stumped.
• Nations shall be shaken, and kingdoms shall be jolted.
• Dead, dry bones will experience a fresh prophetic wind.
• Some will struggle with the question, "Is this God, or is this the devil?" But God will receive all the glory for His mysterious wonders.
• This will be the year of the winds of God, and those winds are already blowing even as I speak this word.
Quick video of that prophecy: https://youtu.be/9wWyjlPFUsc, full video of all 20 prophecies: https://youtu.be/vcG_qWkxvaA or a pdf: http://johnkilpatrick.org/media/downloads/prophetic-words/the-wind-of-god/.
Gave the following message Aug. 17, 2014, which was posted by Richard's Watch:
"I want to say to America – and I have no platform really to say anything like this, this grandiose – but I want to say it in the atmosphere at Mobile bay.

"I want to say to America, and I want to say to Israel and to all their Arab neighbours, and I want to say to Great Britain – and all the nations – I want to say to you:

"You are about to see something come to pass in the very near future that your mind cannot even wrap around.

"It's going to be so magnanimous, it's going to be so awe-full, it's going to be so awesome…and the nations and the kings and the politicians of the earth will not even know how to respond – their mouths will be open!

"It's going to be a day LIKE NO OTHER DAY! – but when all is said and done God will reclaim Israel and God will pour out His grace and His mercy, even upon the United States of America!

"I believe the revival is going to come to the nations of the earth!"

Amen. (http://richards-watch.org/2014/08/18/prophetic-decree-from-usa-supernaturally-confirmed-in-uk/)
Arthur Burt
An amazing man who lived to 102 and died recently (Aug. 2014). He had 88 years in the ministry. A topic and prophecy he preached on, wrote about, and held close to his heart till his dying day was something he entitled There Shall Be No Ebb as in "ebb and flow." The frame of reference is the glory of God. Here are some quotes from his book:
Pentecost birthed the Church. "When I was a child, I spoke as a child, I understood as a child, I thought as a child; but when I became a man, I put away childish things." Tabernacles is the day of putting away.

Tabernacles is the day when God fulfills or when He fills full His purpose. This is something that lies just ahead. There's never been a church that could fully fill what God will fill fully. Once the Church is out of the way, once the Church is eclipsed, then God can operate in fullness. Have I missed something? The Lord Jesus said, "I can of mine own self do nothing." p.33

Preaching will have to bow to demonstration. "Open his eyes that he may see."

Is there a place now where finally we will have to enter into a dimension of demonstration rather than a dimension of preaching? Will preaching have to go and demonstration have to come? In demonstration, you don't have to preach. Here is a man who doesn't hear and someone demonstrates. It's more eff ective than the other because it does the job! p.46

Every move of God has finished with an ebb, a denomination. Men like A. A. Allen, Oral Roberts, whoever, they've all fulfi lled the word of God: "For all have sinned, and come short of the glory of God." That's the ultimate, the glory of God. We all "fall short of the glory of God."

And to this day, the Church is in two-thirds. The Church is in Pentecost, meeting man's need instead of moving into Tabernacles and meeting God's glory. God is governed by one thing, His glory.

Pentecost brought us to two-thirds. But we're entering into the fullness of times. One, Two, Three. Passover, Pentecost, Tabernacles. The underlying principle is Tabernacles, the third third. God will fulfill and fill full in Tabernacles. Tabernacles is for the glory of God. p.47

Most people never get beyond souls. "Oh if I could only get this soul saved!" But the ultimate is that God requires His glory and if souls are not operating to the glory
of God, they better not operate at all. That's the goal! His glory…p.47

Something's coming!
And there shall be no ebb…
Right from the beginning, there has always been the ebb. When a tide comes in, it reaches high tide and then after fl owing in, it ebbs out. Every move of God has been
followed by the ebb. There is something lying ahead that will have no ebb!

I was expelled from the Church of England in 1934 for embracing the Pentecostal revelation, the baptism of the Spirit, speaking with other tongues. Right after that,
a prophecy came. I remember it as if it was last night.

I walked over to a piano and looked at the open Bible, it was open there at this Word:

"For the vision is yet for an appointed time, but at the end it shall speak, and not lie: though it tarry, wait for it; because it will surely come…."

At the meeting that night, not a Church of England meeting, but a Pentecostal meeting, the Spirit of God fell upon a young man and he prophesied. I think it's about the only prophecy I can remember word-for-word in my entire life. It's like a scar inside of me!

"It shall come as a breath…
And the breath shall bring the wind…
And the wind shall bring the rain.
And there shall be fl oods and fl oods and fl oods…
And torrents and torrents and torrents.
Souls shall be saved like falling leaves
from mighty oaks swept by a hurricane.
Arms and legs shall come down from heaven…
..And there shall be no ebb."

I remember that, "Souls shall be saved like falling leaves from mighty oaks swept by a hurricane." There was another part about "the rich and the poor embracing each other in
the streets of New York." But the final thing was… "And there shall be no ebb." No ebb! p.48

The one-man show has dominated in the Church. Man has localized on a platform. Preaching, choir, singing, music have all been
located on the platform.

People come to church and they are not expected to do anything. They just sit down and become pew warmers, spectators, as long as they pay their tithe. It's like
attending a religious concert. It's located at the front. And basically, the people do nothing.

Has the day of the one-man show gone its full effort, extended all its energy… and now it's time for it to disappear? It is time. It's time. And if it is time, what will
take its place? p.50

But the greatest show on earth is coming. "Every knee will bow, every tongue will confess that Jesus Christ is Lord." That day is soon! p.53

The revelation of the Body has its problems, its teething problems. We don't know where we're going. The governing factor isn't Pentecost. Pentecost birthed. Tabernacles fulfills, and it fills full. So in Tabernacles, there could be no ebb. The end of the road…p.64

We've believed a lie. We thought we were waiting for Him. Is God waiting for me or am I waiting for Him? When… where is the fullness? See, the husbandman waits… for the bride! And He's waiting… and He's waiting. And in the fulfillment of purpose, the bride will make herself ready. How will she make herself ready? Good question. How will she? How? She must lose her identity [denominations] that she might "be conformed to the image of His Son." In that process, she comes forth in all the beauty of Another… conformed to His image.p.68

The one thing about Tabernacles, it's fulfillment. And in the fulfillment, there will come forth an ultimate end into all God's purposes, "…the measure of the stature of the fullness of Christ…Nothing could come to fullness except God brings it." p.68

It's the pattern. Every member in the Body must lose their identity and in so doing, each one seeks the well being of another. One does not seek to get, he seeks to give. The
emphasis is on giving, not on getting. p.69

In the Body, we are all subject to the Head, Jesus. With this in mind, we must never seek to get, we must seek to give… losing our identity in giving. Thus we are living to the glory of the Head, Jesus. Every one of you! p.72

The time has come where the Church must say goodbye to the "one-man show" where everyone seeks to get. They all seek their own glory. But now it's no longer on a platform. Music, ministry, speech and the gifts of the Spirit have all been located on a platform. "We are the people and we control the ministry." That day is rapidly going out! p.72
www.arthurburt.com
Notes
Arthur Burt has a wealth of wisdom to pass on. He has witnessed the great revivals come and go, i.e. ebb and flow, start and stop. In every case the leaders fell due to pride. Arthur says we must die to ourselves and points out that the Tree of Knowledge was composed and "good" and "evil." Why did not God want us to partake of the "good" of that tree? It's all about God, God's glory, and us pursuing His glory and not our pride, that's why.
He admits that the body of Christ has failed miserably due to church members and their leaders putting a single man before Christ. We should be "of no reputation." After 102 years of living, Arthur has a wealth of wisdom and those are his conclusions.
Charles Shamp
This report comes from Richard's Watch:
"There's coming to this country signs and wonders that this country's never seen before – and you're part of that. We're birthing something that has never been in this country. I know you've had miracles, you've had salvations, you've had outbreaks of the Spirit, of great awakenings – but as far as it goes with a movement of signs and wonders – with manifestations, not just prophecies – but manifestations of tangible glory; then what you're about to see, what's coming right now, what's being birthed into this nation right now…has never been seen before.

"It's where we can go into meetings where 9, 10 people get gold teeth…Manifestations of the glory where metal starts dissolving out of people's bodies…where gold dust starts sprinkling down onto the chairs and onto the people because they're lifted up in the songs of the Lord and the praise goes up. Our praise and worship goes up into the atmosphere, God inhales that praise and then exhales His glory.

–

"One time I was in a meeting and I picked one feather off a woman…it was a small feather…she was baffled by the fact she had one little feather. Then after the meeting was over with, they were vacuuming feathers off the floor!

–

"Go to Haggai 2 because what's coming to England will shake a lot of people up. Some people aren't going to be able to handle it. Charismatics won't like it, religious people might love it. People that have been in traditional churches are going to come out of their tradition and are going to begin to enter into this new glory.

"And some people that have been Pentecostal in their life and reactions…some of them aren't going to like it because they're so used to the old and are so used to the way of doing things that when something new begins to come it shakes and rattles their boat and they say, "Well this cannot be from the Lord. But the word 'Wonder' is the word 'teras', which means 'something strange'. And so when Paul says he came with many signs and wonders (Acts 15:12),he was saying he came with some strange things."

–

"And the Bible says in Haggai chapter 2, verse 6 For thus says the Lord of hosts; Yet once, it is a little while, and I will shake the heavens, and the earth, and the sea, and the dry land; 7 And I will shake all nations, and the desire of all nations shall come – and I will fill this house (say "My house, our house") with glory, says the Lord of hosts. 8 The silver is mine, and the gold is mine, says the Lord of hosts (and) the glory of this latter house shall be greater than of the former, saith the Lord of hosts: and in this place will I give peace, saith the Lord of hosts. (NKJV)

"This nation has seen mighty moves of revival but the LATTER movement of the glory of God THAT IS COMING NOW over this nation is going to trump everything you've ever seen in the UK. It's NOT going to look like the old thing – it's not going to look like the old way – it's SOMETHING COMPLETELY BRAND NEW and what it's going to do is literally even to shake ground in this country…" (http://richards-watch.org/2014/05/22/visitors-notice-heavens-more-open-over-england-part-3/)
Notes
The reference to feathers being found confirms the prophecy that Jesus gave Percy Collett, that said the left arm of God is covered with feathers and when His presence comes down during His Final Act, feathers will actually come down from our Father's arm. Those his message was given in the UK, it will be the same all over the world – God's new act.
Southern Baptist Convention
Southern Baptist President Calls all 46,000 Church to Pray For Revival
Pleading With Southern Baptists, November 10, 2014

With a deep burden for revival in the church, spiritual awakening in America, and for the world to be reached for Christ, I wrote this simple and brief 16-page e-book entitled, "Pleading With Southern Baptists". It is imperative we now come together in clear agreement and visible union in extraordinary prayer. I believe when you read this, share it with your church, and we take these actions together, we can be in a position to see God do something absolutely powerful through us and toward the future of our churches, nation, and world. This 16-page e-book is free, so please read it, share it with others, put it all before God and your church, then let's rise up together to do something great for God.

Yours for the Great Commission,

Ronnie W. Floyd

Dr. Ronnie Floyd is currently serving as the President of the Southern Baptist Convention. The Southern Baptist Convention is America's largest Protestant denomination with more than 15.7 million members in over 46,000 churches nationwide. (http://www.ronniefloyd.com/blog/8149/southern-baptist-convention/pleading-with-southern-baptists/)
Jarrod Cooper
Jarrod gave the following prophecy entitled Days of Wonder, June 11, 2010. Though some may find it rather grandiose or others regurgitation of what has already been said, it provides details that may help the rational mind to wrap itself around how life will be after the glory comes down and surrounds us all.
Prophetic word: Days of Wonder, June 11, 2010
In 1996 I encountered the glory of God in a six-week visit to South Africa. In that time I was filled with a vision for the United Kingdom and Europe. Night after night I awoke, day after day I prayed, and visions of a great revival were burned into my heart. I am convinced the Church must be ready to host a glory at a level previously unknown.

The presence of God is preparing to sweep across Europe as never seen before. It will be in response to the apostolic reformation currently underway. Stadiums, arenas and the greatest auditoriums will be turned into church buildings. Market places filled with thousands will be overcome by the glory of God. The blind will see. The lame will walk. Street evangelism will happen as never seen before, as mass healings take place on street corners and in shopping centres. Where many have spent years sowing, others will reap on a massive scale.

God's glory will touch the media, politics and royalty. His glory will invade live TV shows, as men and women of God reveal the power of God in healings, strange signs and prophetic words and wisdom. Many politicians will come to Christ in a very visible way. For some this will bring prominence, for others ridicule and scandal. Governments and kings will call days of prayer.

Thousands will stream into the Kingdom of God as a great move of signs and wonders floods our churches, work places and homes. Some believers will be transfigured as Moses was. Trances, dreams and visions will become common place. The weather will be controlled by believers at certain times, and used as a sign to communities where they are ministering. Neighbours will knock on the doors of those known to be Christians, begging to be led to Christ and to find peace for their souls. Many businesses and work places will hold prayer meetings; some will even close for whole days of prayer. Study groups will meet at all hours of the day in business establishments.

The glory of God will fill the greatest auditoriums in the land as Christians try to find places to gather that can contain the numbers flooding into the Kingdom. Great and glorious signs and wonders will be performed by apostolic teams, though even the least among the Church will see miracles as common place. Churches will be planted on a daily basis. Leaders will be trained quickly and released easily. Youngsters will lead churches of hundreds and thousands. A softening of hearts between generations in churches will mean all ages will worship and walk together.

…and Worship Ministry in the Church of the Future?

In the coming move of God's glory in the earth, worship ministry will change greatly, not so much because of our own skill and design, but because men and women will be so overwhelmed by the presence of God. At times, whole bands will physically collapse under the weight of his presence. On occasions, crowds will stream out of auditoriums, terrified as God's glory is revealed in clouds, "writings on the wall" (Daniel 5), earthquakes, audible voices and manifestations of angelic beings.

In local churches many congregations will worship and sing without formal worship/music ministries. There will simply be too many Christians to be served by musical bands. People will meet from house to house, where spontaneous worship will flow on led by the Spirit himself. Singing in tongues and intercessions will last for hours and days at a time. Leaders will often take a back seat and let God lead his people, trusting the intensity of his holiness and presence to keep the meetings in some sense of heavenly "order". The revival will be known as a "leaderless" one in many places, as the glory of God will rest on the corporate Church, rather than just a few prominent figures.

Every expression of worship, from extravagant foolishness, to tender quietness, will flow like waves through churches. Denominational barriers, styles and wrong authority structures will break down in many communities and countries, leaving the church full of variety and flavour, but without barriers and comparison.

Wonderful worship bands, anointed to facilitate God's presence and move in the prophetic will be raised up. Albums that seem to capture the very intensity of God's presence will be used to impact millions. Radio and TV will open up to Christian music and feature glorious worship times with signs and wonders. These broadcasts will impact many households, and through the medium of T.V. millions will be saved, experiencing the presence of God in worship.

Some communities will feature 24-hour worship times, lasting for months and even years. Some of these will become incredible "hot spots" of God's glory, and the light of God's presence will be physically seen from miles around at times. Many people, saved and unsaved, will be overwhelmed by God's Spirit when attempting to travel near these places. There will be 100% success rates in praying for the sick in some of these communities, a fact that will result in thousands visiting for prayer. Kings and presidents will visit them and find their hearts melting, touched by the glory of God during worship.

I believe extraordinary days are ahead of us. What will you do to re-design your corporate worship, church, ministry and lifestyle for the glory of God? In some way, the glories outlined above depend on the preparation of your church temple? This is a biblical truth.

Will you stand on the sidelines while others pioneer new blueprints for the corporate gathering capable of bending to the weight of God's glory? Will you look at your life and ask yourself "Where can I follow God more, be filled with him more and show his glory more?" Will you look at your ministry and honestly examine the validity of its blueprint? Is it man-made, or God made? If it is God made, is it a relic of a past move, or a fresh design, the ink still wet from the master's pen?

Gather your leaders and ask God together, "Lord what must we do to host your glory? What is your specific worship blueprint for us?" I am quite sure he will answer, whether by word or circumstance. And on that day you will begin a journey to build a temple for his presence in the earth. And who knows what will happen on the day God's awesome glory fills that temple? (http://jarrodcooper.net/2010/06/11/prophetic-word-days-of-wonder/)
Notes
Unfortunately Cooper believes his prophecy has already been fulfilled:
For me, booking the Hull City Hall this year 8-10 March 2012 for a revival gathering, where we expect His glory to pour out, miracles to take place, the lame to walk, the deaf to hear … this is all a fulfilment of prophecy. THIS IS THE SEASON OF FULFILMENT! (http://jarrodcooper.net/2012/01/05/10-clouds-in-the-sky/)
What he fails to comprehend at present time is that when this prophecy is truly fulfilled is when it happens without stopping, as Arthur Burt prophesied.
Richard's Watch
Richard's Watch, Looking for the signs of Jesus' return: "A New Era for the Church,"
"A summary of prophetic words published herein and indicative of a new season in the Lord – so the Bride can prepare for His Coming." (http://richards-watch.org/prophecies-and-visions/a-new-era-for-the-church/)
Notes
Richard has provided a wonderful listing of prophecies that apply mostly to the UK, but also many apply to the world at large and is a great resource like no other.
Kenneth Hagin
A well respected evangelist who ministered for 70 years. He passed in 2003.
A Prophecy

Many are concerned about the future and they wonder what will happen; will darkness overtake or will the light shine bright? Yeah, Sayeth the Lord of Hosts, remember you are in my hands, and remember that I know the future better than you know the past and all is well. I will alert you concerning that which will affect you, I will show you the way to go and you will be blessed above all the people of the world, among the earth you shall be blessed, for thou art my people and my people shall rule and reign and the blessings of God will fall upon them.

The Later Rain shall be poured out, yea upon nations that are now barren and void, but the rain will be poured out, the seed will be planted, the harvest will come, the glory of God will shine upon the earth and they of the world will walk on in the way that they walk and the darkness shall overtake them but ye shall walk in the light.

The entrance of His words giveth light, walk according to The Word, walk in The Word and walk in the Spirit, and the power shall rest upon you and shall be seen upon thy face and many shall turn to the Lord. Great days, great times, great blessings are ahead, so rejoice and be glad. ("Kenneth E Hagin tongues and interpretation and speaking out mysteries in prayer language WBS 021803," YouTube, 01:33)

---

The Lord went on to say, "Charismatic believers know how to praise Me, but there is a move of the Spirit they know little or nothing about. And should I tarry My coming, that understanding will be lost to future generations if you don't teach them." Of course, we will never leave behind the teaching of God's Word. But God wants to combine a move of His Spirit with the solid foundation of Bible teaching that's been built over the past few decades in the Body of Christ. The combination will cause the next move of the Holy Ghost to be the biggest one yet!

The Next Wave of God's Spirit Is Coming

When you've preached as long as I have (almost seven decades!), you can start to see some things come in waves. And I can sense it in my spirit—there is another wave coming. Get ready for it. It isn't coming just because God said it's coming. We are going to have to enter into the deeper realm of prayer we have been talking about and give birth to that which God wants to do.

If you've ever gone down to the ocean and watched the waves come in, you know that before a wave ever breaks on the shore, it has its beginnings way out in the deeper waters of the ocean. The potential energy of the wave begins long before you ever see the final result washing up on the shore.

Well, that's what praying in tongues accomplishes in the spiritual realm. When you pray in tongues, you give impetus to the next move of God's Spirit before that spiritual "wave" is ever seen with your natural eyes!

When I talk to other ministers, I realize we all have the same thing in our spirits. We haven't necessarily communicated in the natural with one another. There is just something in our spirits that tells us another wave is coming!

So what do we do about it? Well, we determine that we're not going to stay with the old wave and ride it into the shore, only to be left high and dry on the sand! Instead, we turn around and start swimming back out to the deep part of the ocean so we can get on the next wave—the next mighty move of God's Spirit on this earth. And how do we swim back out to the deep? By setting aside time and dedicating ourselves to fellowship with the Father and to pray in the Holy Ghost!

But if we are going to usher in the next mighty move of God's Spirit in these last days, judgment must begin at the house of God. There is so much more God wants to do for His people. But He can't do what He wants to do until Christians humble themselves, forget their petty little differences, and come together in unity to enter the realm of the Spirit in prayer.

God is calling us to answer His call to pray in these last days. Jesus is coming soon—but before He comes, there is something He wants to do. And what He does on this earth, He will do through us, His Body. The Body has no coordination when half of its members are going one way and the other half are going the other way. So God is getting us ready. He is calling us to a common goal—to yield to the prompting of the Holy Ghost to pray in other tongues! The next wave is about to burst upon us in all of its glory, and every one of us should be determined not to miss it!

[Previous waves: healing revival, Charismatic Movement, faith, teaching God's word.]

We have seen the wave called the healing revival. We have seen the wave called the Charismatic Movement. We have seen the wave of faith and of the teaching of God's Word. But now another wave is coming! It's the wave of the Holy Ghost [spirit of God]!

Oh, yes, we've seen the power of the Holy Ghost in a limited fashion, but a wave is coming that will bring His power [right, God's spirit, not he Holy Ghost, see Percy Collett for the differences] on a higher level and in a far greater measure than we have ever seen heretofore. I can see that wave way out yonder in the deep waters. It's coming! The waves of Holy Ghost power are building higher!

Don't stay on the old wave of yesterday's move of the Spirit. Swim out to the deep waters of the Spirit realm by praying in the Holy Ghost, and get on the next wave of God's purposes for this hour. Then keep on praying so you can ride that new wave as it builds and builds in divine power and glory.

I'm convinced the wave that is coming will be twice as high as the healing wave, the Charismatic wave, or the faith wave. In fact, it will be twice as high as all of them put together! I believe it is going to be the wave that sweeps us right on in to the shores of the Glory World! (Kenneth Hagin, Tongues: Beyond The Upper Room, Kindle 4693-4726)
Notes
It is interesting to note that the Lord distinguished the worth of praise from the final move of God, and Hagin distinguished it from all previous waves including: healing revival, Charismatic Movement, faith, and teaching God's word. The next and final wave of God is altogether different, more comprehensive, much more powerful, in fact "twice as much" as all previous waves combined.
Of equal import is the need for believers to be on the same page. The great things God is planning to do in this final move can only be accomplished after His Body is unified and that won't come until The Shaking when all that is not of Him crumbles to the dust. Then it will be crystal clear who was of God and who was for themselves, be they individuals, movements, or groups.
Percy Collett was shown by the Lord church spires falling to the ground and crumbling from The Shaking which left not one stone upon another.
James A. Durham
After serving as a pastor for more than 45 years, including 13 years as a pastor and church planter and almost 30 years as an active duty army Chaplain, James retired from the military at the rank of Colonel. James went to the Third Heaven every day for three years, four months, and two weeks.
"The Lord was releasing some good news this morning: On the horizon is a new dimension. It is going to be on a higher level of glory than we have thus far experienced. As I looked up, I was given a vision of something which seemed to be in the future, but which is at the same time very close at hand. I saw a kind of manifestation of a great brightness which is stronger than the sun, and it is moving toward us. By revelation, I immediately recognized that the glory of the Lord is coming on a level much stronger than we have known before.

In the last few weeks, the Lord has told me over and over (especially as I gave prophetic words to others) that He is ready to do something so new that we don't yet have the language to describe it. All of the old ways of thinking, seeing, and understanding need to be renewed. The Lord told me that this is why He had instructed me to begin to impart a renewed mind (see the description in my book entitled, 'Beyond the Ancient Door,' 'Free to Move About the Heavens'). We need to have our minds radically renewed so that we are able to move away from the old ways and move into His new manifestation of glory. Are you ready for it?"

"To move into this new season you must let go of everything from the past. You must be especially diligent to let go of unforgiveness, bitterness, strife, offense, and jealousy. These things cannot move into the new dimension, and their presence in your spirit and soul will hold you back."

"May we all diligently seek Him in the new season which is beginning to manifest! May we let Him transform us so that we are ready?" (Preface: "A New Dimension of Glory," Seven Levels of Glory, James A. Durham, 2014)

…

This morning the Lord gave me a vision of a massive volcanic eruption. The top of a mountain split open in four different directions and fire shot up several hundred feet. I saw this as being something powerful breaking loose in both the natural and in the spiritual realms. The eruption of the volcano in the natural is going to be a sign of something to come quickly upon the earth. This will be released as a judgment on those who have rebelled against the Lord and denied Him in these last days. But, the really important part of this vision was that the Lord is ready to release something very powerful in the spiritual realm. The Glory of the Lord surrounded the mountain top and actually held the four parts of the mountain upright so that they did not fall on things below and bring great damage.

The mountain split in four directions because this release of the Lord is for all the nations. For some it will be judgment, but it will be a release of awesome power and protection over those who are in the Christ. A greater glory is about to manifest and it will be made visible to the entire earth. My thoughts went back to Habakkuk 2:12-14, "Woe to him who builds a town with bloodshed, who establishes a city by iniquity! Behold, is it not of the Lord of hosts that the peoples labor to feed the fire, and nations weary themselves in vain? For the earth will be filled with the knowledge of the glory of the Lord, as the waters cover the sea." The glory brings both judgment and knowledge to the entire earth. Time is short and the Lord will not be ignored much longer. Those who are in Christ will receive the Messianic promise of Isaiah 11:2.

Then the Lord gave me a vision of a solar eclipse. It appeared very large in the heavens and will be visible to people around the globe. Remember His words in Joel 2:10-11, "The earth quakes before them, the heavens tremble; the sun and moon grow dark, and the stars diminish their brightness. The Lord gives voice before His army, for His camp is very great; for strong is the One who executes His word. For the day of the Lord is great and very terrible; who can endure it?" It will be followed by a smaller eclipse. I understood that as Joel prophesied, this will be a lunar eclipse. It will only appear to be smaller because it will be more difficult to see. I believe this is something in the spiritual realm and only the Lord's seers will be aware of what is happening. In this season the Lord keeps taking me back to the same prophetic words in scripture. I was led again to Amos 3:6-8, "If a trumpet is blown in a city, will not the people be afraid? If there is calamity in a city, will not the Lord have done it? Surely the Lord GOD does nothing, unless He reveals His secret to His servants the prophets. A lion has roared! Who will not fear? The Lord GOD has spoken! Who can but prophesy?"

Immediately, I saw the image of an old man dressed as a shepherd who was holding a staff in his hand. He was standing between the erupting volcano and the solar eclipse. His right hand was outstretched toward the volcano. He appeared to be so large that I thought it was the Lord, but the spirit corrected me. This was a vision of those who have been given great spiritual authority on the earth. Most of them are hidden and few are seen as powerful by the standards of the world. However, in this season they are rising up with great authority to hold back the fiery judgment of the Lord over His people. These will begin to emerge from hiding after the lunar eclipse and will exercise great authority in the decrees they make. These are not the ones who have been previously revealed as intercessors. The season in which the intercessors had the lead is coming to a conclusion as the season of those with great spiritual authority emerges. Some will be in both groups, but most will be a surprise when they arise. This is the beginning of a new outpouring of the Spirit. It will be a greater fulfillment of the prophecy in Joel 2:28-32a, "And it shall come to pass afterward that I will pour out My Spirit on all flesh; your sons and your daughters shall prophesy, your old men shall dream dreams, your young men shall see visions. And also on My menservants and on My maidservants I will pour out My Spirit in those days. And I will show wonders in the heavens and in the earth: blood and fire and pillars of smoke. The sun shall be turned into darkness, and the moon into blood, before the coming of the great and awesome day of the Lord. And it shall come to pass that whoever calls on the name of the Lord shall be saved."

I am praying for the manifestation of His hidden servants who will rise up in great authority. I am praying for those who will truly take hold of the promise of Yeshua in Luke 10:19, "Behold, I give you the authority to trample on serpents and scorpions, and over all the power of the enemy, and nothing shall by any means hurt you." I am praying for the full manifestation of this promise as His hidden ones emerge to usher in a new season of Holy Spirit power, fire and glory! Amen and Amen!!! (James A. Durham, What Heaven is Saying Today, November 28, 2014)

…

"The Lord has spoken to me over and over about doing something 'NEW' in this season. It will not be like anything we have seen in the past. We will not be able to look at it and say that we recognize it, because it will be completely new. He said that it would be so new that we don't yet have words in our vocabularies to speak about it or describe it! We cannot call it by a name we have used in the past. We will need a new vocabulary just to speak about it and to share it with others." (Chapter 1 – "The Lord is Doing a New Thing," Seven Levels of Glory, James A. Durham, 2014)

"We are about to experience something completely new and more powerful than we can imagine…May the Lord give us wisdom and revelation to understand these things more fully! May we have clarity to know what should be done to prepare for this new move of the Lord!" (James A. Durham, What Heaven is Saying Today, November 03, 2014)

"Then I saw a diamond shaped window in Heaven which had the appearance of pure gold and as I looked at it I felt the powerful presence of His Glory. Then suddenly, I saw the face of the Lord in the window. I was immediately drawn to Him. Somehow, I passed through the window and began to move through several zones of bright white colors. Each zone was brighter than the one before. I felt that this is a word from the Lord about a move for many who will read this into a new level of holiness before the Lord. There are elevations being released right now. Perhaps this is for you. I hear the Lord saying that this is for several people who have very specifically prayed for this to manifest in their walk with Him. If you have been praying for a closer walk and a deep experience of holiness, this is for you. Just receive it now by faith and it will manifest very quickly in new and amazing ways.

Suddenly, I moved into an area where I stood face to face with the Cloud of His Glory. It was rolling, tumbling, and releasing awesome power, great grace, and amazing glory. As I watched a huge rock face was split in two and there was a great shaking in Heaven. The Spirit immediately reminded me of Yeshua's prayer for things on earth to be as things in Heaven. What I was seeing in Heaven was also happening on Earth. I wanted to experience this shaking and it came quickly. How about you? Are you ready for a shaking?

Then I heard the Lord speak what is written in Hebrews 12:25-27, 'See that you do not refuse Him who speaks. For if they did not escape who refused Him who spoke on earth, much more shall we not escape if we turn away from Him who speaks from heaven, whose voice then shook the earth; but now He has promised, saying, Yet once more I shake not only the earth, but also heaven.' Now this, 'Yet once more,' indicates the removal of those things that are being shaken, as of things that are made, that the things which cannot be shaken may remain.' I want everything which is not of the Lord to be removed in the great shaking which is about to manifest. Are you ready for it?

I was then led to Haggai 2:6-9, 'For thus says the Lord of hosts: Once more (it is a little while) I will shake heaven and earth, the sea and dry land; and I will shake all nations, and they shall come to the Desire of All Nations, and I will fill this temple with glory,' says the Lord of hosts. 'The silver is Mine, and the gold is Mine,' says the Lord of hosts. 'The glory of this latter temple shall be greater than the former,' says the Lord of hosts. 'And in this place I will give peace,' says the Lord of hosts." We are living in the time of (it is a little while). Now is our season for a shaking!

May the Lord give you wisdom and revelation about these spiritual words from Heaven! May you receive the healings and anointing being released from Heaven today. May you be ready to move in a greater level of Glory with miracles, signs and wonders accompanying your testimonies about Yeshua ha Messiach! May the powerful presence of the Lord surround you, fill you, shake you, and bless you today and always! Amen and Amen!!!" (James A. Durham, What Heaven is Saying Today, November 05, 2014)

"I was suddenly carried by the Spirit to an open portal in Heaven. I saw things below shifting very quickly and the Spirit said that the seasons of the Lord were going to accelerate to a speed which will be difficult for us to keep up. We must let go of our plans and just follow the Holy Spirit if we are going to move with Him in these shifting seasons. At that point, I just let go and allowed Him to do whatever He wanted with me." (James A. Durham, What Heaven is Saying Today, November 05, 2014)
Notes
James has received many prophetic insights into this "new thing" that God will do, and Cut Short provides both a theological and prophetic framework for it.
---
Dutch Sheets
Dutch Sheets is a well known evangelist.
"I saw the Spirit of God coming to this nation with strength and power, he starting visiting junior high schools, high schools, colleges, universities; there was no place in this nation that was immune to it. He came with life, he came powerfully, I started seeing signs and wonders, I started seeing young people delivered. This is not just for young people, it's coming for everyone. I did not have theology for what I was seeing. I saw large groups of young people saying 'Jesus just delivered me' and they would lay down paraphernalia, drugs, transformed. 'Jesus just healed me.' These were kids who didn't know the Bible, some of them didn't know anything about scripture, they had no reference for what was happening, they were saved by the thousands.

"It hit all over this nation, it was so radical, so strong that sporting events were cancelled…classes were canceled…until the fires of revival were sweeping this nation and it's not just for America, it's for the nations."

"I've never seen anything like what is coming, it will be greater than the First Great Awakening and the Second Great Awakening, we've never seen anything like it. This is going to be very difficult to steward because there was no religious box to put it in, there was no denomination that could hold it, we couldn't turn them into churchy religious people, they just loved Jesus and it is coming." (Dutch Sheets, Sid Roth Radio, Friday 6/6/14, 10:00)
A July 4th aspect of praying for the USA,
Synopsis provided by Richard's Watch:
Dutch refers to the practical lesson intercessors can gain from what the colonialists did when faced with the overwhelming power of the greatest empire the world had ever known. The answer was a united 'Appeal to Heaven', and was related to what early settlers had learned from the formation of tribal nations' Iroquois confederation. Amazingly, Dutch teaches how their actions in 'burying the hatchet' relate to the account of Abraham and the terebinth tree and how this may apply to overcoming the deep spiritual crisis of today.

In view of Dutch's calling to press forward into a breakthrough for a 3rd great awakening his teaching is delivered with utmost conviction based upon a close relationship with the Lord. It was clear how well this personal perspective, although different to others calling for national intercession, enhances their calls and goes right into God's heart for praying for the USA.

Long-time readers may recall my interest in the nature of time and its direct relevance to the purposes of God throughout history. As Dutch's message was based upon precisely that, he had my undivided attention. His term for this divine/human interaction in time is, 'Synergy of the Ages'. ('Synergy': the sum is greater than its individual parts.)

For your ease of reference here's a few brief notes:

it's not a time to preach doom and gloom as we're about to have the greatest outpouring whilst darkness increases – God hasn't finished with America!
we may be about to step into the greatest move of God the world has ever seen.
eg: Muslim nations will be so transformed that Christians will outnumber others.
a 12 year prophetic journey of dreams connecting into previous prophetic words.
on his mentor's prayers, God told Dutch, "I can't do for him what I promised him until you and the Body comes into agreement with them!"
he responded, "I need synergy of unity throughout the ages – the power of prayers made in agreement".
'testimony' means, according to its Hebrew root, when we say what God has done the same power will be released and God will do it again [RB cf: They overcame him (Satan) by the Blood of the Lamb and the word of their testimony – Rev 12:11]
one of God's names, 'Olam-El', describes Him as 'Everlasting Now' – God Who is outside time. "The LORD is the true God; He is the living God, the eternal King." (Last words in Hebrew, 'Mehlek Olam'; Jeremiah 10:10 NIV)
prophetic dreams of 2007 and 2013 relating to USA's foundation, the combined prayers from all generations and declaration of the nation's holy future. (http://richards-watch.org/2014/07/03/a-july-4th-aspect-of-praying-for-the-usa/)
Notes
What is significant about Dutch's prophecy is that it centers around an open vision he had while preaching. On the back wall of the room he saw the hand of God write a single scripture verse:
Acts 3:19
Which reads:
19 Repent ye therefore, and be converted, that your sins may be blotted out, when the times of refreshing shall come from the presence of the Lord; (Acts 3:19)
There are more verses to the prophecy of Acts 3 than just verse 19. The prophecy is thoroughly explored on the Framework page under subheading Acts 3:19-25. The fact God wrote the verse on the wall for Dutch to see means it is still relevant and has not yet come to pass.
---
Larry Randolph
The following prophecy is significant because it confirms the premise here on Cut Short, and it came on the heels of the book Cut Short, but before the launch of the web site. Confirming points have been footnoted throughout with additional comments down below under Notes.
Larry Randolph,* Prophetic Word From Voice of the Prophets, April 2-4, 2014 – Video Transcript
The Lord says you have wondered this year about why the feeling in the air, why a feeling that something is coming in the air this year. Why is there a feeling that the baby is turning? Why is there a feeling of a release of alone hard time. Why is there a sense of anxiousness? Why is there a sense of a shift, like something is happening, something is coming, something is being birthed?1

The Lord says I have designated 20142 as the year of unveiling.3

It shall be the year of uncovering on three levels. You have already seen and shall see the marketplace and in the government and in the nations of the world.4 And I shall begin to uncover darkness, And you shall see the Spirit of God take the cloak of darkness away, for the light shall shine into the darkness in this nation. And darkness shall not comprehend it because those things that are evil shall be brought into the light5 and shall be consumed by the fire of that light.6

For I am a God that searches out the places and you shall see this year an unveiling, and uncovering from the government all the way down to the lowest citizen of this nation. And you shall see the hand of the Lord bringing judgment to the house of God in the sense of discerning the right from the left in the sense of bringing correction, in the sense of exposing.7

The Lord says I do that because you expose and uncover a hidden wound that it may air out and that it may come to healing. My motivation for this says God is to bring healing to the people, healing to the government, and healing to the infrastructure of the government of this nation and to the Church of this nation and to the business of this nation, to the economy of this nation and every sector of this nation.8

The Lord says I am pulling off the cloak that covers and the mildew and the stench of things that have rotten and I am bringing a fresh wind into the nation this year and it shall blow away everything that is hidden and it will uncover everything that is hidden. And you will say wow, God is wonderful for He has uncovered the things that are wrong so we can know how to build that which is right.9

The Lord says the second covering I am doing I am about to uncover the people of God in the Church in a wonderful way for the scriptures says there shall come a time when the whole earth groans like a pregnant and travails for the unveiling for the sons and daughters of the living God for this is the year that my Spirit is going to come upon you and birth and as a child is birthed through the birth canal and for the first time the world gets to see the form of something that lived in closure, I shall bring forth a birthing this year in your life and the life of the church and the life of Christians and there shall be an unveiling of the manifestation of the sons and daughters of God and the glory that I have given you before the foundations of the world.10

Did not I say that before the foundations of the world I foreknew you and that I predestined you to be conformed into the image of Christ. That is why Paul prophesied that my little children whom I travail in birth until Christ be formed in you. The Lord says the birth date is this year. It is the end of a long and arduous pregnancy and you are overdue. For I shall induce labor in the Church, I shall induce labor in the lives of Christians, I shall induce labor and you shall step into the air that you have never breathed before for you shall come out of the womb and go into a place of performing the things that I have called you to do. The Lord says I induce this year and you shall not only be hearers of the word but doers of the word this year.11

There shall be an expression, a spirit of expression shall come upon you, the spirit of travail and groaning as the earth cries out for this expression of God's glory. And it shall be revealed to the Church and it shall be revealed through every Christian for the scripture says that in the last days I will pour out my Spirit upon all flesh and your sons and your daughters shall express themselves prophetically and dreams shall be enhanced and encouraged. There shall be visions that shall grow. For this is a year of supernatural explosion, this is a year that the supernatural shall manifest itself and heaven shall touch earth and shall be a kisp(?) between the throne of God and the Church you shall understand that that has been veiled, that which has kept hidden the things of the living God shall be rent and shall be taken away and my glory shall begin to fill the earth as the waters cover the sea for my glory shall be expressed through you, but most importantly I shall unveil the cloud of mystery that is over Abba Father's face.12

I shall unveil the cloud that is on the throne and it shall be a throne room year for you. And I shall begin to manifest my glory and the Father's face to those that are a part of this thing that I have crafted for my glory and I shall begin to express heaven, the ambiance of heaven, and I shall begin to express the very feeling of heaven the mood of heaven. I shall begin to express my face, for my face shall surely be seen as smiling from the heavens upon what I am doing on the earth.13

For you have said "Lord show us your face." Do not pray that anymore. Lift up your eyes and lift up your hands for I am about to reveal my face and I shall behold you and you shall behold me and there shall be a beholding between us and the glory that I carry shall satisfy the cry in your heart that says Abba Father show me your face. For I am coming, I am coming this year, I am coming with all of my embrace, and the release of my Father's heart to take you into my arms and unveil the most secret places of my heart and the love that I have for you.

Be cheerful and cast away the doubt and the anxiety, do not regard the diagnosis that you have heard that things are going to be terrible for you. Yes there shall be terrible things in the earth, yes there shall be judgment, yes things shall increase, but nevertheless the scriptures say that darkness will cover the earth, gross darkness will cover many people,14 but let that be a sign to you that the glory of the Lord is rising up on you and His glory shall be seen upon you. For it was the judgments in and of Egypt that became the deliverance of Israel so although the good and the bad is coming, posture yourself for the good, posture yourself in the line of the blessing.

I am rising from my throne, and when I rise from my throne heaven will rise with me, angels and cherubims will rise with me and say "We are about to make our move on planet earth.15

We are about to invest all that heaven has on the very pocket of the Church and the very soul of the Church and my people who are called by my name will begin to declare the very DNA of the Father and out of that expression of that miraculous DNA there shall be this increase of anointing this year that is unprecedented in history and you shall experience the words that Jesus said "Greater works shall ye do than I have done because I go to the Father, but I'm going to send the Father to you, and you and me and me and you shall dine together and we shall all be one in the expression of the Father's destiny on this planet."16

This is the year of the beginnings, this is the year where the labor pains are ceasing, but you say oh, the birthing pains and labor pains have been so hard. But the Lord says, "Pain in the night but rejoicing in the morning when a son is born" and you will say that it is worth it, and like the son who said, knowing the joy that was set before him, he endured the pain and the agony and pressure of the birth canal of processing all that he had to do. You shall forget that like Jesus did17 because of the joy that I am setting before you this year. There shall be great joy and great victory.

Things will happen, things will be bad, oh there are things that will happen here and there, but it's none of your business what happens there, your business is the Father's business, your business is the Kingdom's business,18 so lift up your hands and declare, "This is my moment of breakthrough, this is my moment to set my feet and the Father's word. This is my moment to become everything I have been destined to become." This is my moment to partner with God and to express the fulness of the Kingdom." This is your moment to live a life of no regret. To say I have no regrets, I have come and I have fulfilled every nuance of the destiny that God has put in the womb of my spirit.19

This is the year of birthing, this is the year of gotter(?) rising, this is the year of enemies fleeing, this is the year of establishing the Kingdom of God, for the Lord says "The Kingdoms of this world shall become the kingdoms of Christ." This is your year. — We will think we have been raptured and gone to heaven but we will still be here.20 But we are here to occupy till you come. We're to occupy with your glory. — I will fulfill the expression of my glory upon the earth and I will cover it and you shall say 'God is really on the war path.' 'God has really decided to invade planet earth.' And it shall happen and you can partner with me or not.

Like in Noah's day you can posture yourself in the ark and ride the crest of one of the greatest moves of God or posture yourself outside of the ark and belief because both mercy and judgment are coming down and it depends on how you posture yourself which you will take part in.

Choose the good and refuse the bad and be a part of one of the greatest expressions the planet earth has ever seen. It is but the beginning and it will but go on and on and on. "I am making my move says God." (Larry Randolph, Prophetic Word From Voice of the Prophets 2014, http://youtu.be/YyqgpO27RsE)
Lancaster County Convention Center in Lancaster, PA, from April 2-5, 2014. Speakers included Randy Clark, Patricia King, Mahesh Chavda, Bob Hazlett, Larry Randolph, Jamie Galloway and Kim Maas.
*Larry Randolph pastor, prophet, author, and friend of Jesus, was given many prophecies that were fulfilled including Katrina, the economic collapse, etc. He has been visited by Jesus on many occasions.
---
Notes
1. The theme of something being "birthed" is repeated many times throughout this prophecy and is a Biblical theme, having been used in both the Old and New Testaments. Perhaps the Bible reference that most closely relates to this prophecy is itself a prophecy already used on this web site:
2 For yourselves know perfectly that the day of the Lord so cometh as a thief in the night. 3 For when they shall say, Peace and safety; then sudden destruction cometh upon them, as travail upon a woman with child; and they shall not escape. 4 But ye, brethren, are not in darkness, that that day should overtake you as a thief. (1 Thessalonians 5:2–4)
2. 2014. This is a bold statement to put it lightly, which was repeated several times in this prophecy. Randolph is not afraid of making predictions and many, if not all have come to pass and because of that, has garnered a great deal of respect.
The warning that no one knows the "day or the hour" of Jesus' coming (Mat. 24:36, Mat. 25:13) applies only to what day and what hour, not what year.
3. The word "unveiling" is significant because it describes precisely what The Sign of Jesus' Coming will do. To name a few:
God is real
There is more to existence than what we have known thus far
God's Holy Spirit is real
Angels are real
There is life after death
There are other dimensions
God is love
4. To say there will be an uncovering in the marketplace, in the government, and in the nations is no small thing. Many of the greediest individuals are at the helm of these industries and we need not suppose they will be getting a new conscience, or the uncovering will come by way of simultaneous disclosures by whistle-blowers. Something so large can only come from above, by a supernatural event from God as disclosed on this web site.
5. Uncover darkness. The method by which #3 will come about is stated by #4 – the Spirit will be the light that exposes the darkness. It may be hard for the uneducated and inexperienced to imagine how such a thing could come about, but as has been detailed on the Glory page. The Holy Spirit is quite capable of "cutting asunder both limb and joint," a metaphor for piercing even the darkest illusions.
6. Consumed by the fire of that light. God and His Spirit have been referred to as a "consuming fire":
24 For the Lord thy God is a consuming fire, even a jealous God. (Deuteronomy 4:24) 29 For our God is a consuming fire. (Hebrews 12:29)
What is it that the Spirit of God consumes like a fire? Sin of course. Whatever separates us from God is sin. For example, God is truth, therefore whatever is not true would be the opposite of Him and therefore darkness. Same goes for love. God is love and whatever is not of love is darkness. Any attribute of God is light and any attribute that is not of God is darkness, or sin.
When God's light and man's darkness meet, only God's light will remain. So what will become of the darkness? By "consumed" it is meant that all man's contrivances to hush his conscience will be removed; it will be like a truth serum at full strength. And the only way to silence the conscience will be to confess them and repair whatever harm was caused. It will be like the TV series My Name is Earl for everyone!
7. Judgment to the house of God. What does that mean? The modus operandi for such a thing was given – "discerning the right from the left" means the "sheep from the goats." Recall that at the coming of Jesus he will set the goats on his "left" hand and the sheep on his "right" hand.
Whereas the house of God and their different denominations may assume they are each doing the work of God, when the Holy Spirit descends, it will reveal who truly is and has been doing God's work. This kind of feedback will cause a course correction.
8. Every sector of this nation. It needs to be stated, this will not bring a correction to just the marketplace, or just the government, or just the Church, or just the nations. No person, and therefore no sector or area of life will not be penetrated by the Holy Spirit and its effects. So just because a sector of life was not specified, it should not be assumed it will not likewise be assessed.
9. Know how to rebuild. It is important to realize what is being said here: THE BEGINNING OF THE MILLENNIUM OF PEACE BEGINS THIS YEAR, 2014. How? The standard, or the stone upon which all industries will build will be known by everyone. No one will need to be instructed, it will be self-evident, for everyone will have the Holy Spirit in a powerful way (Joel 2) and everyone will know if what they are doing is compatible with God's standard or not.
And you will say wow, God is wonderful for He has uncovered the things that are wrong so we can know how to build that which is right.
10. Before the foundations of the world. What this means is many, if not everyone living when this event happens in 2014 will have been foreordained for a life and purpose in Millennial bliss. There may be people right now who have had dreams and visions of their future that could never make sense or come to pass in our current environment.
If God gave you a word of knowledge that you would be a king or queen for example, or one of your children would, that could never happen in our current environment and such words of knowledge would not doubt have been discarded as pure nonsense. But with this prophecy and the understanding that Cut Short brings, it IS possible for very peculiar words of knowledge to come to pass beginning in 2014!
11. Doers not hearers only. This appears to be an insight to what will be discerned about the offenses in the body of Christ, for the difference between the left hand (goats) and the right hand (sheep) as stated in #7 is one is a doer of the word, and the other is not.
12. Pour out Spirit upon all flesh. This prophecy of Joel was claimed to be fulfilled on the day of Pentecost by the early apostles. That prophecy however was not actually fulfilled as pointed out in the book Cut Short in Righteousness, How The Sign of Jesus' Coming Will Change the World. It says the Holy Spirit will be poured out upon ALL flesh, NOT JUST BELIEVERS. This has not happened, but it's about to.
13. Ambiance of heaven. This is an important expression. The reason the kingdoms of earth will become like the Kingdom of Heaven is because the atmosphere of heaven will have invaded earth and all thoughts, feelings, and inclinations will have conformed to the image of Christ. The wicked are removed, see Consequences page for details.
14. Darkness cover the earth. There will be significant spiritual darkness before The Sign of Jesus' Coming, and then physical darkness with the clouds and The Shaking. (See Darkness for details.)
15. Angels and cherubim will rise. Angels and clouds will follow The Sign of Jesus' Coming. They are the Second & Third Stages of Jesus' coming.
16. Greater works than Jesus. It is silly to believe that anyone could do greater works than Jesus. What more could a person do than raise the dead, heal the diseased or deformed, bring people to repentance, etc.
Such a statement was never meant to placate the egos of man, and any person who has seized upon this statement to feed their ego should reconsider what Jesus meant – you will have more time than he had (three years) which was true, all his apostles and most believers today have ministered for more than three years and we will have the whole millennium to do "more" than he did.
17. Will not be remembered. This was prophesied:
17 For, behold, I create new heavens and a new earth: and the former shall not be remembered, nor come into mind. (Isaiah 65:17)
It is exciting to know this prophecy will be fulfilled this year, 2014!
18. Bad Business. When the light of truth slices through the illusions of man, this "reality check" will have quite a sobering affect as entire industries come to naught. They shall reap what they have sown and they and the suffering they'll feel for their sins can be healed by the same glory that will expose their rottenness. As soon as they repent, they will have peace. The difficult part will be rebuilding their life from scratch:
24 Therefore whosoever heareth these sayings of mine, and doeth them, I will liken him unto a wise man, which built his house upon a rock:
25 And the rain descended, and the floods came, and the winds blew, and beat upon that house; and it fell not: for it was founded upon a rock.
26 And every one that heareth these sayings of mine, and doeth them not, shall be likened unto a foolish man, which built his house upon the sand:
27 And the rain descended, and the floods came, and the winds blew, and beat upon that house; and it fell: and great was the fall of it. (Matthew 7:24–27)
19. Now is the time to break whatever chains have been holding us back and avoid any embarrassment in front of our family and friends.
20. Indeed God's glory will come down as prophesied.
---
Terry Bennett
This prophecy was given by way of a visual and is significant because it puts Jesus and his moves first and totally renders Satan and his plans useless:
"The Lord was in a card game with Satan. Satan had all his hands laid out and he was gambling everything.1 The Lord said I'll go first,2 it was a trump card, trumped every thing he had.3 Satan was incredibly frustrated, because all of his hands had been rendered void."4
(Prophetic Roundtable: Terry Bennett with Jeff Jansen and Larry, Jul 11, 2013, http://youtu.be/3WSaB-rXsoE?t=42m41s)
---
Notes
1. Satan gambles everything. Satan has big plans in the works as detailed in The Revelation of John.
2. Jesus goes first. So far, prophecy writers have said Satan goes first and wrecks incredible havoc on earth. Cut Short says Jesus will go first by way of The Sign of His Coming.
3. Jesus' plan will trump Satan's. What could be so powerful and so effective that it would beat everything Satan had?
4. Satan's plans rendered void. According to the prophecy of Joel 2, so much glory and light will be poured out we can expect a disruption to Satan's plan.
---
Jesse Duplantis
Jesse Duplantis was taken to the Third Heaven and given a tour, and was then commanded to return and tell the people that Jesus is returning soon:
He [Jesus] said, 'The worst day of My life is yet to come.' (Jesse Duplantis, Heaven, Close Encounters of the God Kind, 1996, p. 125)

'On that great Judgment Day, I will have to tell some of the creation I love to depart from Me. I dread that day.' (p. 127) … But once the judgment comes, He can't change it. His Word will be final. When he has to turn man away, His most prized possession, He can't change it back. He dreads that day. … The Lord was firm with me, 'Tell them I'm coming, Jess….Everyone looks for the signs when they ought to look for My witness.' (p. 128)
Notes
Four points:
a. Jesus will return
b. He will have to dismiss some people
c. They will be sent to hell
d. There is no getting out
---
Tony Kemp
A minister his whole life and now a "pastor of pastors," Tony Kemp was taken to heaven and shown many things about the future, both poignant and pertinent. The following quotes are from when he was on Sid Roth.
Here's the prophecy that happened in Azusa Street between 1909 and 1910. Here's what the Word said: 'It shall come to pass in the last days of the great Pentecostal movement three things are going to occur. One, the people will praise a God that they no longer pray to.' And remember, the apostle Paul said first prayers, supplications, intercessions then giving thanks, and praise and worship to the Father. The second thing he said in this prophecy is that the leaders, the ministers, the people would emphasize power instead of right living. And the third thing the prophecy said was people will emphasize the gifts of the spirit instead of the lordship of Jesus the Messiah. (Sid Roth Transcript, December 10, 2012, p.1)

…

SID: Tell me about you had an experience that I'm interested in, in which you were taken to Heaven and told about the United States.

TONY: Yes. I believe it was 2003. My spirit left my body. I went to the throne of God, which by the way is as big as a mountain. God spoke to me. I wouldn't even lift up my head because the experience of God's presence and glory was just so great. I was literally at His feet. And He said, 'Pray for the United States.' And essentially this is the truth. Everything that can be shaken will be shaken. And that means institutions, business, economy, school systems, even organizations, even church organizations and institutions. Everything will be shaken. And what God wants to do, God's not mad, God's not upset, God loves people, but God knows that people are spiritually asleep. And so God wants to use the shaking to wake people up to seek the Messiah Jesus and the Church to surrender to the Messiah Jesus so we can do what He wants, which is to bring people to Jesus. " (Sid Roth Transcript, August 2, 2010, p.6)

…

Jesus was the servant of all servants, and Jesus showed us what the Father is like. So when you and I love God and love each other, and by love serve each other, then Heaven has come to Earth. And so the Father says, 'That's what I'm looking for. Now I'm gonna reveal myself. I'm gonna show myself strong. I'm gonna manifest myself. I'm gonna do signs, wonders and miracles.' (Sid Roth Transcript, August 16, 2010, p. 6)

…

And so it is very clear that the Word of God teaches us, after we get saved we need to repent because repentance is the method that God uses to transform your mind and my mind so that we do the will of God in a way that's acceptable, pleasing and honoring to him. (Sid Roth Transcript, December 10, 2012, p.3)
Notes
Tony Kemp's visions and prophecies confirm several other prophets, as well as scripture that say there will come a shaking.
Shaking
Percy Collett said not one stone will be left upon another that is anti-God, including many church steeples and churches. Kemp explained two reasons for the coming shaking:
a. Wake people up
b. Get the believers to surrender to Jesus. They'll need to reform particularly if their church crumbles to the dust
Finally, things that oppress will dissolve like the IRS, Federal Reserve, Unions, federal governments, unions, lobbyists, under the table dealings, favors for family and friends, communist governments, dictators, oppression, false religions, innocent people being wrongly held, etc.
Revealed
Another significant point Sid did not ask him to elaborate on is how God is going to "reveal himself," in an obvious reference to the coming outpouring of His spirit (not Holy Ghost), power, love, and glory. According to Percy Collett, that very outpouring is what will cause the prophesied shaking and it will be one of the ways God will "do signs, wonders, and miracles" as well as through this faith-filled believers, The Mighty and Strong.
Richard Sigmund
Richard Sigmund (1941-2012) was a child preacher in the late 1940s who was called by Jesus to preach at the tender age of seven. He preached for and with many of the great Evangelists including Rev. Jack Coe, A. A. Allen, and Lee Girard.
Later in life Richard was killed in a car accident where he lay dead for eight hours. During that time he was given a most extensive tour of heaven, the City of God, His throne, and hell. During his tour he was privileged to see the Prophetic Area.
I have a depth of God in my life now that I never knew was possible. It just seems like this type of revelation is more than any man could ever have. This type of experience with God would seem like one out of a hundred or once in a lifetime, but it now happens to me on a daily basis. Every day, I hear the audible voice of God in some manner. Every day, I see the angels of God. And I have seen Jesus on numerous occasions. (SIGMUND RICHARD, My Time In Heaven, p. 130, Kindle Edition.)

SEVEN PROPHETIC SIGNS

I saw the Falls of God's Glory, one stream of water falling into vapor on earth. We on earth can rise up to that level. We can rise into the mist of the Falls of God's Glory.

And I saw the Tidal Wave: the last great move of God. It was seven tiers tall. Prophetically, I was told seven signs:

1. The last great move of God will be in out-of-the-way places, day and night

2. Signs and wonders will increase and be fought against

3. Laws of physics will be suspended so that the miraculous can flow

4. Laws of time and space will be made known to men

5. Knowledge of man will increase and never be based on fleshly things

6. Sevenfold tidal wave: the last great move of God breaking on the shores of eternity; the greatest part will be poured out in rural areas; "I seek My bride in humble places; I was born in a stable."

7. "Awareness is given My people in days and weeks just before My return"

Mass multitudes will be involved in this revival, which will be through people who give all praise to the Lord. It is coming to root out and destroy the phony. It will keep the faithful, and it will be the introduction to the coming of Christ. (SIGMUND RICHARD, My Time In Heaven, pp. 90-91, Kindle Edition).
Notes
1. The visual of a "tidal wave" [of glory] breaking on the shores of eternity is significant. It represents something very powerful. It will be sudden, totally unexpected.
2. It is possible for believers to receive a headsup about it just days or weeks [possibly months] before it happens. Two prophets have already proclaimed it will happen this year, 2014.
3. It's coming to root out [evil] and put an end to hypocrisy. The action that does that is of course a strong presence of the Holy Spirit.
4. The glory precedes the person. This is God's kind way of preparing earth for the descent of Jesus Christ. It provides time for the people to repent and get ready. And those who refuse to repent will be "rooted out."
Esdras
Esdras is the apocryphal book of Ezra which was part of most early Bibles. Its historicity is questionable, but the fact it is mentioned by Josephus and was included in the early bibles lends some credibility, if not for all of it, then perhaps parts of it.
As it relates to the Cut Short framework, some of the descriptions of End Time Events have an uncanny resemblance to truth, and for that reason is being included here with the other prophecies and left to each reader to discern its worth.
Children Resurrected
The following prophecy is significant because it confirms our position that children will be resurrected prior to the descent of Jesus and parents will be able to have their children restored to them:
15 Mother, embrace your children; bring them up with gladness, as does a dove; strengthen their feet, because I have chosen you, says the Lord.
16 And I will raise up the dead from their places, and bring them out from their tombs, because I recognize my name in them.
17 Do not fear, mother of children, for I have chosen you, says the Lord.
31 Remember your children that sleep, because I will bring them out of the hiding-places of the earth, and will show mercy to them;
32 Embrace your children until I come, and proclaim mercy to them; because my springs run over, and my grace will not fail.' (2 Esdras 2:15-17, KJV, RSV)
Day of the Lord
The Bible sometimes refers to The Sign of Jesus' Coming as the Day of the Lord which is often referred to as a day of wrath and mourning, etc. The following verses confirm the duality of this time, that it will be glorious for the righteous but horrible for the wicked:
27 Do not be anxious, for when the day of tribulation and anguish comes, others shall weep and be sorrowful, but you shall rejoice and have abundance.
Joy of Your Glory
After the glory falls at The Sign of Jesus' Coming or thereafter, we will be "known as we are known" (1 Cor. 13:2), meaning, our radiance will be seen by others and it will be obvious who is in harmony with the revealed glory and who is not.
Thus, nations will come to "envy" the radiance of believers, and believers will be protected from that time onward, for it will be impossible for anyone to act contrary to love in the thick presence of God's glory.
God's revealed glory will truly be a "perpetual light" and the faithful will be able to "receive the joy of their glory":
28 The nations shall envy you, but they shall not be able to do anything against you, says the Lord.
29 My power will protect you, so that your children may not see hell.
35 Be ready for the rewards of the kingdom, because perpetual light will shine on you for evermore.
36 Flee from the shadow of this age, receive the joy of your glory; I publicly call on my saviour to witness. (2 Esdras 2)
Bent Heavens
18 You bent down the heavens and shook the earth, and moved the world, and caused the depths to tremble, and troubled the times. (2 Esdras 3:18)
This is a wonderful expression for how God will bring the "descent" of The New Jerusalem. Prophets, both ancient and modern have attempted to describe it. Isaiah and John described it as a "scroll" rolling up (Isa. 34:1; Rev. 6:14).
Though one prophet Kat Kerr believes there is only one earth in existence, and God's great throne will literally be coming down to our tiny little earth, that idea is contrary to reason. The Great God has brought forth many earths that we could not begin to count them. Thanks to the Near Death Experience of Richard Sigmund, we know there are other levels of creation, and what looks like all of creation is wrapping up like a scroll, it is only our level, nothing more.
What appears to be stars falling and the heavens rolling up like a scroll is simply our space being "bent" towards God's throne at a rapid rate, and that is why time as we know it will end shortly thereafter (see Changes).
Jesus Alone
The following prophecy confirms that just as Jesus alone created the world (Eph. 3:9), and alone atoned for the sins of the world (Isa. 63:3), he will alone bring the world to a happy conclusion beginning with The Sign of Jesus' Coming:
1 He said to me, 'At the beginning of the circle of the earth, before the portals of the world were in place, and before the assembled winds blew,
6 then I planned these things, and they were made through me alone and not through another; just as the end shall come through me alone and not through another.' (2 Esdras 6:1,6)
Signs
Ezra asked God what His last sign would be. God's answer confirmed many points on Cut Short and if true, provide additional confirmations to things we only theorized. In the book Cut Short I postulated The Sign of Jesus' Coming might be accompanied by either a trump, or God's voice announcing the arrival of His son, or both. If either of those things happen, they may also be the cause of an earthquake or of the earth shaking.
11 I answered and said, 'O sovereign Lord, if I have found favour in your sight,
12 show your servant the last of your signs of which you showed me a part on a previous night.'
13 He answered and said to me, 'Rise to your feet and you will hear a full, resounding voice.
14 And if the place where you are standing is greatly shaken
15 while the voice is speaking, do not be terrified; because the word concerns the end, and the foundations of the earth will understand
16 that the speech concerns them. They will tremble and be shaken, for they know that their end must be changed.' (2 Esdras 6:11-16)
Voice
Hear a full, resounding voice. It must be an amazing thing to hear God's voice. The word "resounding" is defined: "making an echoing sound, uttered loudly, impressively thorough." (Random House Dictionary, 2014)
End
The word concerns the end. The voice will say something about the end.
Earthquake
They will tremble and be shaken. It is interesting to note why the earth is shaken – it recognizes God's voice and it knows that when it speaks, it will be about the end. This confirms my postulation that the voice of God may accompany The Sign of Jesus' Coming or thereafter by announcing his arrival the same way He announced His Son on two other occasions:
When Jesus was baptized:
16 And Jesus, when he was baptized, went up straightway out of the water: and, lo, the heavens were opened unto him, and he saw the Spirit of God descending like a dove, and lighting upon him:
17 And lo a voice from heaven, saying, This is my beloved Son, in whom I am well pleased. (Matthew 3:16–17)
On Mt. Transfiguration:
5 While he yet spake, behold, a bright cloud overshadowed them: and behold a voice out of the cloud, which said, This is my beloved Son, in whom I am well pleased; hear ye him.
6 And when the disciples heard it, they fell on their face, and were sore afraid. (Matthew 17:5–6)
It is important to acknowledge at least two elements from this last example: a. God said "hear him," and b. they fell on their faces "sore afraid." If the same thing happens at The Sign of Jesus' Coming or thereafter surely the people of earth will likewise "fall on their faces" and be "sore afraid."
17 When I heard this, I got to my feet and listened; a voice was speaking, and its sound was like the sound of mighty waters.
18 It said, 'The days are coming when I draw near to visit the inhabitants of the earth,
19 and when I require from the doers of iniquity the penalty of their iniquity, and when the humiliation of Zion is complete.
20 When the seal is placed upon the age that is about to pass away, then I will show these signs: the books shall be opened before the face of the firmament, and all shall see my judgement together.
21 Children a year old shall speak with their voices, and pregnant women shall give birth to premature children at three and four months, and these shall live and leap about.
22 Sown places shall suddenly appear unsown, and full storehouses shall suddenly be found to be empty;
23 the trumpet shall sound aloud, and when all hear it, they shall suddenly be terrified.
24 At that time friends shall make war on friends like enemies, the earth and those who inhabit it shall be terrified, and the springs of the fountains shall stand still, so that for three hours they shall not flow. (2 Esdras 6:17-24)
Sound
Sound of mighty waters. This confirms the power of the voice and is often the choice of words used to describe how God's voice sounds. Unless a person has heard "mighty waters" before like the rapids of a river, a water fall, or Niagara Falls, its meaning may go unappreciated.
Draw Near
Draw near to visit the inhabitants of the earth. This expression is important because it says He will visit "by drawing near" the same way that Jesus will draw near by The Sign of His Coming or thereafter yet not descending right a way.
Doers of Iniquity
I require from the doers of iniquity the penalty of their iniquity. Speaks to the fact that a day of reckoning is on its way and the evil doers will reap what they have sown.
Seal, Book, Judgment
When the seal is placed upon the age that is about to pass away, then I will show these signs: the books shall be opened before the face of the firmament, and all shall see my judgement together.

This seems to be a bad rendering of what it says in The Revelation of John when the Sixth Seal is opened, the heavens will unroll like a scroll and all shall see the glory of God together.
Trumpet
The trumpet shall sound aloud, and when all hear it, they shall suddenly be terrified. This confirms my postulation in the book Cut Short that a trumpet may accompany The Sign of Jesus' Coming or thereafter. Examples for this are found when God came down on Mt. Sinai:
13 There shall not an hand touch it, but he shall surely be stoned, or shot through; whether it be beast or man, it shall not live: when the trumpet soundeth long, they shall come up to the mount.
16 And it came to pass on the third day in the morning, that there were thunders and lightnings, and a thick cloud upon the mount, and the voice of the trumpet exceeding loud; so that all the people that was in the camp trembled.
17 And Moses brought forth the people out of the camp to meet with God; and they stood at the nether part of the mount.
18 And mount Sinai was altogether on a smoke, because the Lord descended upon it in fire: and the smoke thereof ascended as the smoke of a furnace, and the whole mount quaked greatly.
19 And when the voice of the trumpet sounded long, and waxed louder and louder, Moses spake, and God answered him by a voice.
20 And the Lord came down upon mount Sinai, on the top of the mount: and the Lord called Moses up to the top of the mount; and Moses went up. (Exodus 19:17–20)
It is instructive how the trumpet sounded – it was "long," "exceedingly loud," and waxed "louder and louder" and it caused the people to "tremble." (Whether the mount quaked because of the horn is not clear.) There are also prophecies that mention a coming trumpet, but whether those can be taken literally is the question:
30 And then shall appear the sign of the Son of man in heaven: and then shall all the tribes of the earth mourn, and they shall see the Son of man coming in the clouds of heaven with power and great glory.
31 And he shall send his angels with a great sound of a trumpet, and they shall gather together his elect from the four winds, from one end of heaven to the other. (Matthew 24:30–31)

51 Behold, I shew you a mystery; We shall not all sleep, but we shall all be changed,
52 In a moment, in the twinkling of an eye, at the last trump: for the trumpet shall sound, and the dead shall be raised incorruptible, and we shall be changed. (1 Corinthians 15:51–52)
Terrified
The earth and those who inhabit it shall be terrified. No doubt those things will be terrifying and that is why it says the great men of the earth will try to hide:
14 And the heaven departed as a scroll when it is rolled together; and every mountain and island were moved out of their places.
15 And the kings of the earth, and the great men, and the rich men, and the chief captains, and the mighty men, and every bondman, and every free man, hid themselves in the dens and in the rocks of the mountains;
16 And said to the mountains and rocks, Fall on us, and hide us from the face of him that sitteth on the throne, and from the wrath of the Lamb:
17 For the great day of his wrath is come; and who shall be able to stand? (Revelation 6:14–17)
Remain
There will be a period when God "draws near," i.e., The Sign of Jesus' Coming or after that the determination is made whether to curse the world and rapture the faithful, or remove the wicked and convert the inhabitants to righteousness allowing God to "cut short His work in righteousness."
Those who remain after the purging by The Mighty and Strong Ones will be the righteous, the ones who are saved, and the ones who will see Jesus descend upon the earth:
25 'It shall be that whoever remains after all that I have foretold to you shall be saved and shall see my salvation and the end of my world. (2 Esdras 6:25)
Translated Return
We know some people did not go through a natural death but bypassed it entirely and were taken up alive into heaven. According to Esdras, they will return which includes Enoch and Elijah and others who were translated.
26 And they shall see those who were taken up, who from their birth have not tasted death; (2 Esdras 6:26)
According to 2 Esdras 8:19, Ezra himself never tasted death, and thus we can expect him to return with Enoch, Elijah, and whomever else was translated.
Hearts Changed
One of the salient points of Cut Short and The Sign of Jesus' Coming is that the glory will change people's hearts. It will not be possible in that day to even think of a coherent plan that is not compatible with the love that will be revealed, for the spirit of Christ within all flesh will become the dominating voice.
26 And they shall see those who were taken up, who from their birth have not tasted death; and the heart of the earth's inhabitants shall be changed and converted to a different spirit. (2 Esdras 6:26)
Evil Destroyed
In such a strong presence of God's love after The Sign of Jesus' Coming or thereafter there will be no room for evil to remain. This is another reason why righteousness will prevail and God will be able to "cut His work short in righteousness":
27 For evil shall be blotted out, and deceit shall be quenched;
28 faithfulness shall flourish, and corruption shall be overcome, and the truth, which has been so long without fruit, shall be revealed.' (2 Esdras 6:27-28)
Both the gifts and fruits of the Holy Spirit will be poured out when The Sign comes. And as was stated on the Glory page, people will be "known as they are known," and everyone's radiance will reflect their intentions, whether they be good or bad. Thus, deceit will indeed be "quenched," and those who have been walking with God will "flourish" as God-winks and synchronicities increase exponentially.
City
26 For behold, the time will come, when the signs which I have foretold to you will come to pass (a); the city which now is not seen shall appear (b), and the land which now is hidden shall be disclosed (b).
27 And everyone who has been delivered (c) from the evils that I have foretold shall see my wonders.
28 For my son the Messiah shall be revealed (d) with those who are with him, and those who remain shall rejoice four hundred years. (Esdras 7:26-28, Metzger Translation)
This has an uncanny parallel to the prophecy of Matthew 24:29-31 with additional insights:
29 Immediately after the tribulation of those days shall the sun be darkened, and the moon shall not give her light, and the stars shall fall from heaven, and the powers of the heavens shall be shaken:
30 And then shall appear the sign of the Son of man in heaven: and then shall all the tribes of the earth mourn, and they shall see the Son of man coming in the clouds of heaven with power and great glory.
31 And he shall send his angels with a great sound of a trumpet, and they shall gather together his elect from the four winds, from one end of heaven to the other. (Matthew 24:29–31)
Confirmations and Insights
a. Times will be tough, i.e. evils/tribulations before The Sign appears
b. Confirms the arrival of The New Jerusalem and adds there will also be "land"
c. Some number will be delivered
d. Everyone will see: Jesus, angels, the righteous dead, his wonders/power/great glory
Confusion
The only part that doesn't make sense is the reference to the length of "four hundred years." Not all translations have it at "four hundred" years, only the Latin and Arabic 1 do. The Syrian has it at thirty years, the Arabic 2 at two thousand years, and the Ethiopian and Armenian have no time reference.
Judgment
The following text appears to confirm the Second Resurrection and Final Judgment as given in Revelation 20:
30 And the world shall be turned back to primeval silence for seven days, as it was at the first beginnings; so that no one shall be left.
31 And after seven days the world, which is not yet awake, shall be roused, and that which is corruptible shall perish.
32 And the earth shall give up those who are asleep in it [physical bodies]; and the chambers [heaven] shall give up the souls which have been committed to them.
33 And the Most High shall be revealed upon the seat of judgment, and compassion shall pass away, and patience shall be withdrawn;
34 But judgment alone shall remain, truth shall stand, and faithfulness shall grow strong.
35 And recompense shall follow, and the reward shall be manifested; righteous deeds shall awake, and unrighteous deeds shall not sleep. (Esras 7:30-35, Metzger Translation)
The reference in verse 30 to the world returning to primeval silence corresponds to The Millennium of Peace when the earth enjoys a period of rest before being "aroused" again when Satan is loosed for a season. Then all corruptible things come to an end.
A better translation for the "after seven days" might be "after the seventh day" since it is believed that man's time on earth will be made up of seven days with each day representing a thousand years. Then begins the Second Resurrection.
How it describes what will happen at the judgment is quite remarkable, saying, "righteous deeds shall awake" and "unrighteous deeds shall not sleep." In other words, all our deeds will be recalled. Something similar will happen at The Sign of Jesus Coming also where we read that everything hidden will be uncovered. There's a good chance that much of The Millennium of Peace will be spent uncovering past offenses, especially by those who have been wronged since Jesus promised a ten-fold compensation and more.
Hetricks
The Hetrick family has experienced much of heaven and they have made several prophetic statements.
Oden
Oden, the father, made the following statement:
God on His throne is the center of all things and from God comes the Light of Life. This bright white light makes the City of God appear brighter than the sun in the sky over earth. In fact, the day is coming soon when the City of God will appear in the sky over earth and the brightness of the city will outshine the sun and the moon. (Rev. Oden Hetrick, Inside the Gates of Heaven, "Chapter 19 – The Throne of God," audio 02:13)
Which will coincide with The Sign of Jesus' Coming.
Lois
Lois is the daughter of Oden and Grace Hetrick. She met Jesus and visited heaven like her Dad. Both she and her Dad were interviewed before going on to their heavenly homes which can be watched here: Heaven
The following statement and prophecy comes from Lois' web site and is significant because it confirms the view on Cut Short that The Sign of Jesus' Coming will be caused by the arrival of The New Jerusalem, the Holy City of God:
The first time the Son of God came to earth,
his people expected him to reign on the earth.
But he came to reign in our hearts.
The second time the Son of God comes to earth,
his people are expecting him to reign on the earth.
But he will come to reign over the earth
from his visible throne City in the sky.
'Heaven is My Throne, earth is My footstool.'
(https://loishetrick.wordpress.com/)
Faith
Faith Hetrick is the younger sister of Lois and daughter of Grace and Oden Hetrick. She has taken over Lois' ministry and added the following prophecy of her own dated September 2010:
Walk With Me I Am Coming
Walk with Me in realms above,
Where there's glory, peace, and love
All is joy in that fair place,
And you will see me face to face
I am coming very soon,
As the holy, heavenly groom.
When my glory is revealed,
It will show who has been sealed.
Walk with me while there's still time
In white garments pure and fine.
I am calling to my bride,
'Come stand in glory by my side.'
I am coming very soon,
As the holy, heavenly groom.
When my glory is revealed,
You will be forever sealed.
Walk with me in realms of light,
Soon your faith will turn to sight.
I am gathering my bride,
To stand in glory by my side.
I am gathering my bride,
To stand in glory by my side.
(Faith Hetrick, Walk With Me – I AM Coming, Feb 14, 2014; YouTube url:http://youtu.be/L1oHI9kBDMM)
The above prophecy is significant for a number of reasons:
a. Jesus is coming "very" soon.
Faith's prophecy confirms what many others have been told by Jesus – he is coming soon.
b. When my glory is revealed.
While most believers are expecting darkness and the antichrist, the whole Hetrick family believed in the arrival of The New Jerusalem with its accompanying glory as described in detail here: Glory.
c. It will show who has been sealed.
How this will happen is not clear but as we detailed on the Glory page under Radiance, it is possible that what few gifted people can see (auras), everyone on earth will be able to see and those whose eyes have been single to God's glory will have the brighter radiance and it will be clear who walked with God and were already sealed His.
d. You will be forever sealed.
There will be time to become purified and sealed like the faithful are. Those who refuse to turn to God will be removed.